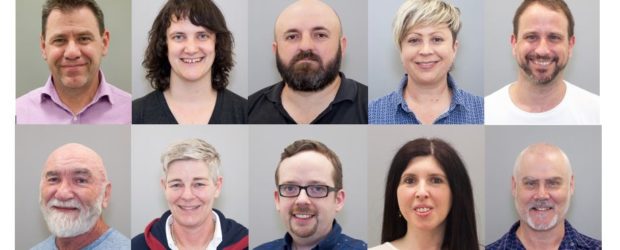 FY2017 Director Nomination Statements for the FY2016 AGM
Tiphanee Athans
I have been involved with Queer Screen since 2014 as a Volunteer and currently serve as an Associate. I believe that if I was nominated as a Director I have the skills necessary to undertake this position. I have a strong work ethic, high level of commitment, am personable and I'm dedicated to bringing queer stories to not only the LGBTI community but the wider audience.
I have a background in television production, programming, sales and distribution in the Pay TV and Non-theatrical/Theatrical markets having worked in the industry for over 20 years. In these roles I have needed to be strategic, forward thinking, focused and accountable to key stakeholders.
For the past fifteen years I have volunteered my time in various different roles in the community. Currently I am involved in the Pink Mountains and IDAHOT committees which both serve the LGBTI community of the Blue Mountains, as well as host a weekly radio show on community radio station, Radio Blue Mountains 89.1.
Brad Booth
I am an experienced Strategy and Business leader. I've managed several businesses in strategic planning, business processes, financial management and systems implementation. My qualifications include Chartered Accountant and Masters of Business (Executive). I've worked across a wide range of small and large companies in the engineering, government, logistics and entertainment sectors, including establishing the Millennium Dome entertainment complex in London. My current role is Head of Strategy Implementation Governance and Innovation for Agriculture business GrainCorp.
I'm a keen supporter of Queer film and the important role this plays to share the stories of the LGBTIQ community, providing role models for queer youth and securing queer lifestyles as a valuable part of what embodies the diversity of the Australian community.
I joined Queer Screen four years ago and having attended several festivals, volunteered as Director of Strategy in June 2016. I facilitated the FY16 strategy development process, documented the 3-year Strategy plan (FY16-FY18) and am currently planning for the governance process to enable us to track the implementation of these initiatives. I can also be seen 'in a pink shirt' hands-on for raffle tickets, ticketing and generally supporting the team at the festival and other events.
Tony Burns
I see Queer Screen and film as the perfect medium to share Queer stories. Queer Screen and Queer film is in a unique position of being able to define and record the changing dynamics of our time as a community. Films reflect our times and create our times.
I had the good fortune to be able to come on board as an associate in 2015, which gave me a really clear and comprehensive understanding about the way Queer Screen operates, before I moved onto the Board as the Events Director.
I see my involvement in Queer Screen as an ideal opportunity to be at the coalface of reflecting the changing times. I bring over 40 years' experience in the performing arts, a love of all the arts and a passion for what our Queer community stands for and represents. I also bring an experience and love of expanding the opportunities to reach out to the community with managing the events. By taking on the dedicated events portfolio as a director, I feel passionately that it can be a catalyst for expanding both participation in the organisation and provide the sort of events that expands our participation at the festivals.
Joseph Duggan
I am a Chartered Accountant and Chartered Tax Advisor. I have been working with Deloitte for the past 9 years since graduating with a Masters in Accounting. In my current role of Director at Deloitte Forensic, I lead financial and accounting investigations, and litigation support services. This has included work across a variety of sectors including not for profit and the charity sector.
Prior to joining the Board as Treasurer in December 2015, I had previously volunteered as a front of house usher at MGFF15 and QSFF15. I also had experience as a Treasurer with the International Dublin Gay Theatre Festival from August 2011 to August 2014.
Since joining the Board, I have helped in formalising existing processes and procedures for accounts management, planning, budgeting and reporting. I also shepherded three statutory accounts (FY14 to FY16) through external audit review.
It is important that Queer Screen continues to be financially transparent to Queer Screen personnel and staff with dissemination of financial information across the Organisation. If elected to the Board, I will continue with the implementation of further financial governance improvements including streamlining of processes, further formalising of policies and procedures, and the implementation of a Finance Working Group.
Cheryl Kavanagh
I am not a filmmaker, actor, film buff or industry person. My passion for Queer Screen and more importantly what Queer Screen represents, stems from my personal desire to make people feel supported, engaged and represented. I celebrate and value our community because there is no right or wrong way to be yourself. There is a common story we at Queer Screen hear at least once a year, and it is a personal and moving one, when people say how a particular movie resonated with them, gave them confidence to deal with a personal issue or just made somebody feel less alone, it reminds me how important it is to keep queer stories visible.
I joined the Board in 2012 when the Organisation was facing difficult times, with the hard work and commitment of some very talented selfless individuals Queer Screen is once again a strong and vibrant community organisation with clear strategic goals. I'm excited about the fabulous beautiful people on board and what we can achieve together. There are so many things we want to do and so many stories yet to be told.
I feel honoured to be able to contribute my time, skills and experience to our community through Queer Screen. I draw on my vast and varied experience managing companies in both the Financial and Hospitality sectors for to add value to Queer Screen Board.
Finn O'Keefe
I have over ten years' experience working in senior communications roles for LGBTI organisations, peak bodies and arts and cultural institutions.
I'm a former Staff Representative on the Board of Australian Federation of AIDS Organisations, and have more than ten years' experience as an audio producer for community film, TV and radio, working with marginalised and culturally and linguistically diverse communities.
I've been a dedicated Queer Screen volunteer since September 2015, and have been heavily involved in supporting Queer Screen festivals and events.
Since October, I have been managing Queer Screen's Facebook page. Over the past year, the page's audience has grown from approximately 7K to 9.5K fans, with metrics showing increased reach and engagement.
I'm passionate about the opportunities Queer Screen provides filmmakers to highlight the huge diversity that exists within our LGBTIQ communities. Seeing ourselves accurately portrayed on screen is a powerful antidote to the effects of homophobia and discrimination in society.
If elected, I will continue to work hard behind the scenes to ensure Queer Screen remains supported in its important work of enhancing the visibility of queer stories, celebrating queer culture and creating new opportunities for community connection, inclusion, empowerment and fun!
Lisa Rose
Queer Screen is incredibly important to me. In the four years since joining the Board, first as Membership Director in late 2012 and then in my current role as Vice-President in 2013, Queer Screen has increased attendance, offered greater assistance to LGBTIQ filmmakers and after a financial loss in FY2012, turned a profit every year since. I have been honoured to see Queer Screen hit its stride and screen hundreds of films as part of Mardi Gras Film Festival and the new Queer Screen Film Fest.
Growing up, I desperately sought out representations of LGBTIQ people on screen in order to feel connected to the larger world, to people like me. Now, I am even more driven and dedicated to providing this, not only for myself, but for everyone in our community.
As a founding Director of Queer Screen Film Fest, as someone who has worked tirelessly to expand the diversity of the films screened, as a fierce aficionado of lesbian films and a rabid fan of LGBTIQ cinema generally, I ask for your vote to allow me to continue to serve Queer Screen and help it along a path of community support and most importantly queer pride.
Kevin Ryan
I have a strong background in the corporate and non-government sectors, with considerable Board experience in both, some of which is set out below.
Having obtained degrees in Commerce and Law, I was based in London for much of my professional legal career, becoming a partner in one of the major city law firms, eventually joining the governing board of its international partnership.
As a Board Director and President of the UK based trade development organisation 'Australian Business in Europe' I played a role in developing business and government relationships in Europe.
In relation to my volunteer work, in the non-government sector I was a Board Director of The International HIV Alliance, one of the key NGOs in the HIV and Human Rights arenas.
I was also a Board Director of NAM (aidsmap), the UK based HIV information charity.
I have considerable experience in the NGO sector leading a variety of projects on behalf of charities in a number of countries.
In regards to Queer Screen, I have been a volunteer for some 4 years, joining the Board this year. Due to its incredible Board, volunteers and staff, it not only provides amazing film festivals, but also builds important relationships within our community and provides a bridge to the wider community.
Queer Screen is an important voice for our diverse community thanks to the hard work and passion of an incredible group of individuals. It is a gift to be able to volunteer with them.
John Tsioulos
I have been a volunteer with Queer Screen since 2010, firstly assisting ushering audiences at screenings and later with the running of screenings at Parramatta. This year I was involved with the filmmakers working group, assisting with four filmmaking masterclasses as well as organising a mobile phone filmmaking workshop for beginner filmmakers as part of MGFF 2016.
I am also filmmaker and one of my films was finalist in Queer Screen's 'My Queer Career' competition in 2012.
In my professional life I work with at risk youth and use filmmaking as a tool to help young people express themselves and learn life skills around team work, organisational skills and communication.
I am committed to Queer Screen as I believe that film is a powerful medium where people and communities can tell their stories, to each other as well as wider audiences. I also believe that film can bring communities together to share greater understanding of issues our communities face as well as share knowledge of the skills and strengths we have. My aim is to work with queer filmmakers, including beginners, to allow them to network with each other, build skills and experience so they can create quality content for our communities.
Shandy Whittaker
As a long-term volunteer, I have benefitted throughout my life from the friendship, support and knowledge sharing of volunteers of all ages and from many different cultures. This is an experience I am eager to share with as many volunteers as possible in Queer Screen by encouraging new sign ups, creating volunteering opportunities, making existing volunteers feel valued, and enabling volunteers to make connections across the whole wonderful Queer Screen organization.
For me, Queer Screen is an important community organization whose remit extends even beyond our amazing screenings and valuable support of film makers, to potentially including any member of our community in a voluntary capacity, where they can find support, opportunities for skills development and join together with all the other Queer Screen volunteers to maintain a strong and sustainable organization.
With over 1,000 volunteers on our mailing list, the volunteer administration is a complex and sometimes very time consuming task. My background in IT assists me to use technology to streamline and support this work wherever possible and to develop systems that reduce communication and organizational bottlenecks. I am currently in the process of centralizing all of the volunteer administration in Salesforce, which will enable others to participate more easily in the volunteer administration, including enabling volunteers to self-manage their shifts and maintain a record of their volunteering history.