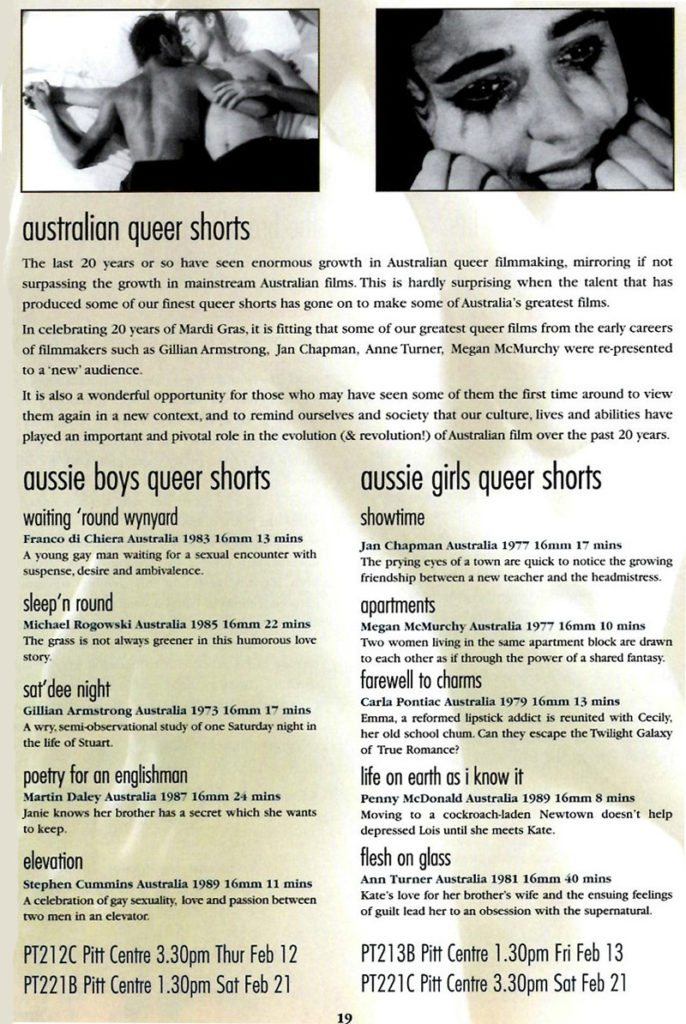 In 1998 Mardi Gras Film Festival held two Australian queer shorts retrospectives. It included early films from Australian filmmaking stars Gillian Armstrong and Jan Chapman.
Print guide text: The last 20 years or so have seen enormous growth in Australian queer filmmaking, mirroring if not surpassing the growth in mainstream Australian films. This is hardly surprising when the talent that has produced some of our finest queer shorts has gone on to make some of Australia's greatest films.
In celebrating 20 years of Mardi Gras, it is fitting that some of our greatest queer films from the early careers of filmmakers such as Gillian Armstrong, Jan Chapman, Anne Turner, Megan McMurchy were re-presented to a 'new' audience.
It is also a wonderful opportunity for those who may have seen some of them the first time around to view them again in a new context, and to remind ourselves and society that our culture, lives, and abilities have played an important and pivotal role in the evolution (& revolution!) of Australian film over the past  years.
Aussie Boys Queer Shorts
| | | | | |
| --- | --- | --- | --- | --- |
| Year | Title | Director | Runtime | Synopsis |
| 1983 | Waiting 'Round Wynyard | Franco di Chiera | 13 | A young gay man waiting for a sexual encounter with suspense, desire and ambivalence. |
| 1985 | Sleep'n Round | Michael Rogowski | 22 | The grass is not always greener in this humorous love story. |
| 1973 | Sat'dee Night | Gillian Armstrong | 17 | A wry, semi-observational story of one Saturday night in the life of Stuart. |
| 1987 | Poetry for an Englishman | Martin Daley | 24 | Janine knows her brother has a secret which she wants to keep. |
| 1989 | Elevation | Stephen Cummins | 11 | A celebration of gay sexuality, love and passion between two men in an elevator. |
Aussie Girls Queer Shorts
| | | | | |
| --- | --- | --- | --- | --- |
| Year | Title | Director | Runtime | Synopsis |
| 1977 | Showtime | Jan Chapman | 17 | The prying eyes of town are quick to notice the growing friendship between a new teacher and the headmistress. |
| 1977 | Apartments | Magan McMurchy | 10 | Two women living in the same apartment block are drawn to each other as if through the power of a shared fantasy. |
| 1979 | Farewell to Charms | Carla Pontiac | 13 | Emma, a reformed lipstick addict is reunited with Cecily, her old school chum. Can they escape the Twilight Galaxy of True Romance? |
| 1989 | Life on Earth as I Know It | Penny McDonald | 8 | Moving to a cockroach-laden Newtown doesn't help depressed Lois until she meets Kate. |
| 1981 | Flesh on Glass | Ann Turner | 40 | Kate's love for her brother's wife and the ensuring feelings of guilt lead her to an obsession with the supernatural. |