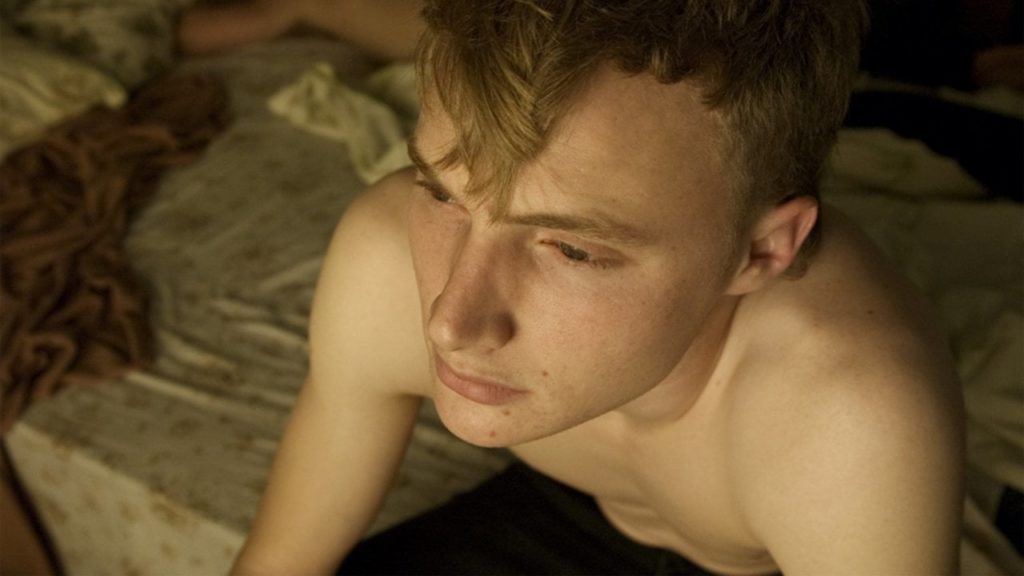 Print guide text: In 2007 the Mardi Gras Film Festival continues the tradition of opening with an all-local line-up. Queer Screen is proud to present the finalists and award winners of the My Queer Career competition. Since the beginning of the competition in 1993 we have seen a vast range of short films from all over Australia and New Zealand, and this year's eclectic syndicate is no different.
The finalists delve into the subconscious, the homeland and the painfully conscious, they portray the past and how far we have or haven't come, they present inner beauty and the struggle to externalise it. They animate a troubled relationship and explore our predilections for certain foods, styles and affections before saying a sad farewell to an absent love.
The judges were impressed with the large number of entries in this year's comp and have curated the finest for this gala event. Following the films and award ceremony the audience is invited to join Queer Screen, the filmmakers and judges for our opening night party in the stunning City Recital Hall.
The Judges
Margaret Pomeranz, beloved Australian film critic and co-host of ABC's At The Movies.
Helen Bowden, film producer whose titles include Girl in a Mirror and Soft Fruit.
Anton Enus, award winning journalist and reporter and the anchor of SBS World News Tonight.
Ashley Luke, senior vice president, development and acquisitions for Fortissimo Films.
The independant panel gathered in a director's suite at Spectrum Films to view the 2007 entries and select the winners of each award category. A very vocal and jovial jury, they were most impressed with the quality and diversity of this year's finalists.
WINNERS:
Best Film
Look Sharp
Directed by Amy Gebhardt
v
v
SBS Award
In the Ladies Lounge
Directed by Fadia Abboud
v
v
Emerging Talent
Sarah Spillane
Directed: Australian Tails
v
v
Production Award
Filled with Water
Directed by Elka Kerhofs
Audience Award
Prada Handbag
Directed by Stuart Vauvert
v
v
Queer Portrayal
In the Ladies Lounge
Directed by Lisa George
| | | | |
| --- | --- | --- | --- |
|  Title |  Director |  Runtime |  Synopsis |
| Australian Tails | Sarah Spillane | 7 | Australian Tails follows the story of 'Jet' the Jack Russell as he attempts to gain entry into the prestigious Blind Dog School of Australia. Jet has to face the rigorous physical and intellectual challenges as well as the unspoken 'Breedism' that he feels has kept him out of the school in his last two attempts. |
| Filled With Water | Elka Kerkhofs | 5 | Anoka feels deep emptiness until she walks into a TV and her heart begins to glow for the ballerina inside. But she learns filling her heart can mean breaking it, when the one you love craves a stronger desire. |
| Mizu | Peter Humble | 6 | A Japanese man living in Australia reflects on a dream following the death of his mother. While he has trouble interpreting all the images, he discovers that the dream has left a lasting impression on his life. |
| The Manual | Sarah Spillane | 15 | Sonny, an eight year old boy, is sent away from home because his father believes he has characteristics that could lead to homosexuality. After twenty four years of treatment and psychiatric institutions, Sonny returns home for a funeral, and attempts to save his seven year old niece from experiencing a similar fate. |
| Salt | Campbell Farquhar | 3 | A love story about three people who share a passion for food. |
| My Malaysian Trip | Walter Lee | 5 | |
| Seeya Rach | Pearl Tan | 7 | Mel's girlfriend Rach is headed overseas. This is her goodbye video. A heartwarming voyeuristic film, with an evil little twist in the end. |
| Look Sharp | Amy Gebhardt | 9 | After spending a drunken night together, Jo, a photographer, is compelled to capture the emotional truth beneath the rough exteriors of sharpie gang members, Darren and Jason. But to what lengths will she go in the name of art? |
| In the Ladies Lounge | Fadia Abboud | 12 | In a Beirut lounge room in 1926, a photograph was taken of two Lebanese lesbians in drag. Now this photograph hangs in a Sydney lounge room of two Lebanese lesbians. Some things have changed, some things haven't. |
| Prada Handbag | Stuart Vauvert | 20 | What's a girl to do when a rare hair-loss condition leaves her with an obsession for zany wigs and make-up? Become a drag queen, of course! Having always been an outsider, a young woman finds her niche when she lands a job at a kooky drag bar and assumes the new identity of Prada Handbag. She decides to take to the stage and discovers that acceptance – and self acceptance – can be found in the most unlikely of places. |