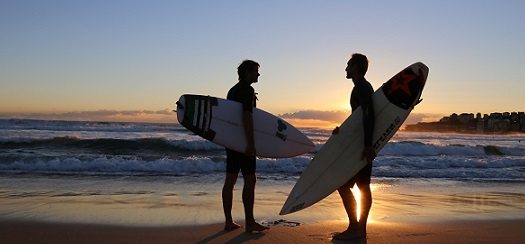 10 Jan

Out in the Line-up Announced for MGFF 2014

We are pleased to have the World Premiere of Out in the Line-up, a documentary that shines a torch on the taboo of being gay in the surf world. David Wakefield is a former state champion surfer who ended his career early for fear that his sexuality would be discovered by his peers. 20 years later, the typically shy David is thrust into the spotlight after he publically comes out in front of hundreds of thousands of spectators at Sydney Gay and Lesbian Mardi Gras.

On the other side of the world, Thomas Castets is setting up the first online community for gay surfers. Together, David and Thomas travel the world from Australia to Hawaii, California, Mexico and the Galapagos Islands. They meet gay surfers, hear their stories and bring awareness to their unique community. The pair speak to everyone – from openly-gay professionals to amateur young surfers, surf journalists to a US Congressman with a surfer husband! Out in the Line-up provides a refreshing perspective on a male-dominated culture that has strayed from its foundation of freedom and open-mindedness.