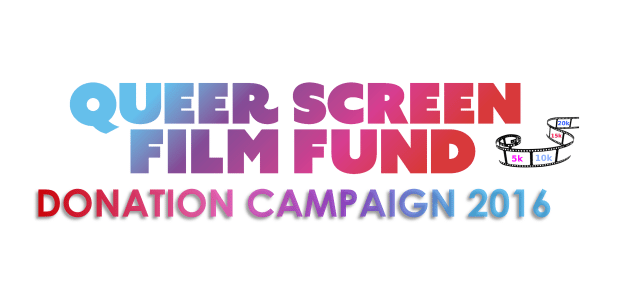 07 Jun

Donation Campaign 2016
AUSSIE LGBTIQ FILM MAKERS
QUEER SCREEN ​DONATION CAMPAIGN 2016
Dear Supporter and Friend of the Queer Screen Family,
Do you believe in the Australian queer narrative as much as we do? Please help Queer Screen keep our industry vibrant and free by supporting today.
If you think artistic creativity is worth nurturing and believe in the importance of the queer film industry in Australia, you'll be happy to know Queer Screen do too. Nationwide funding cuts to the arts have devastatingly affected a number of long established, highly esteemed LGBTIQ cultural beacons that have represented the nurturing of independent artistic voices and expression for decades. With the closure of some institutions, like Metro Screen, and ruthless restructuring of many others, Queer Screen is more determined than ever to provide accessible platforms for diverse sexualities, gender identities and queer stories to come together to share their experiences and contribute to the community. If you want to help safeguard our queer narrative like Queer Screen do…
HELP US KEEP THE INDEPENDENT LGBTIQ VOICE VIBRANT AND FREE BY DONATING TODAY
Whether you can donate $50, $250 or $1000 it will help us to continue to provide our community with resources and opportunities to support the incredibly important LGBTQI narrative. Your generous gift today will allow us to continue work in an inclusive manner within the LGBTQI family to provide opportunities to foster and strengthen the relationships that make each of us who we are.
The importance of safe spaces and visibility of queer narratives for LGBTIQ people to express themselves, affirm their sense of identity, interact with the community in positive, healthy and constructive ways is undeniable. The support you have provided Queer Screen over the past year has been phenomenal in helping us create these spaces and opportunities within the community. Our appreciation is heartfelt, thank you.
One project we are incredibly proud to have been able to introduce is the Queer Screen Film Completion Fund, designed to assist LGBTIQ screen projects from Australian filmmakers. This year's Donation Campaign is all about them. Last year, $7500 was awarded to the exceptionally brave and rarely told documentary, which needs to be kept under wraps for the time being,
"Shooting a film about being queer in the Middle East was challenging on all levels. We faced so many hurdles politically, socially, emotionally and financially. By the time we applied to Queer Screen we were exhausted and morale was low. Queer Screen believed in us and our project and their support gave us the inspiration injection we needed to keep going and now we are in post-production and the film is shaping up to be something very special. Thank you Queer Screen!"
$2500 was awarded to the Australian film TEENAGE KICKS the feature film debut from Craig Boreham, produced by Annmaree J Bell. The duo made our hearts swell recently when they wrote,
"Seeing our stories on screen has been a powerful way to understand the world and our places in it since the invention of cinema. LGBTQI stories have had a harder time of it and reaching audiences has always been a challenge. Queer Screen and organisations like it around the world have worked tirelessly to make a space for our stories and to bring our community together to enjoy them. For us as filmmakers Queer Screen have been invaluable champions of our careers and our work and we feel honoured to have had their support as we take our debut feature film Teenage Kicks out to the world."
HELP US REACH $50 000 TO SUPPORT MORE INSPIRING LGBTQI STORIES & LIVES
Because of your generous help Queer Screen were able to provide:
Two film festivals featuring the best local and international queer content there is to offer;
Multiple free screenings for marginalized members of the LGBTIQ community;
Free diverse workshops and Q&A with filmmakers and industry professionals throughout MGFF16;
Greater expansion of the MGFF16 to the Blue Mountains and Parramatta, increasing the availability of queer cinema and community involvement to a broader audience;
Socially interactive and dynamic volunteer opportunities.
To all our supporters, we would not be here without you – thank you! However, we can not express enough gratitude to our donors who are exceptional in their love and generosity. A special shout out to our True Love Patrons (donations of $500 or more), who will again have the opportunity to be acknowledged on our website, social media and festival programs (if so desired).
Queer Screen is a registered charity and every donation over $2 is tax deductible.
We accept donations online, over the phone or via post. A digital e-receipt will be sent to you by email, or post if preferred. Please either click here, contact our volunteer Administration Team at  donations@queerscreen.org.au or leave a message on  +61 2 9280 1533