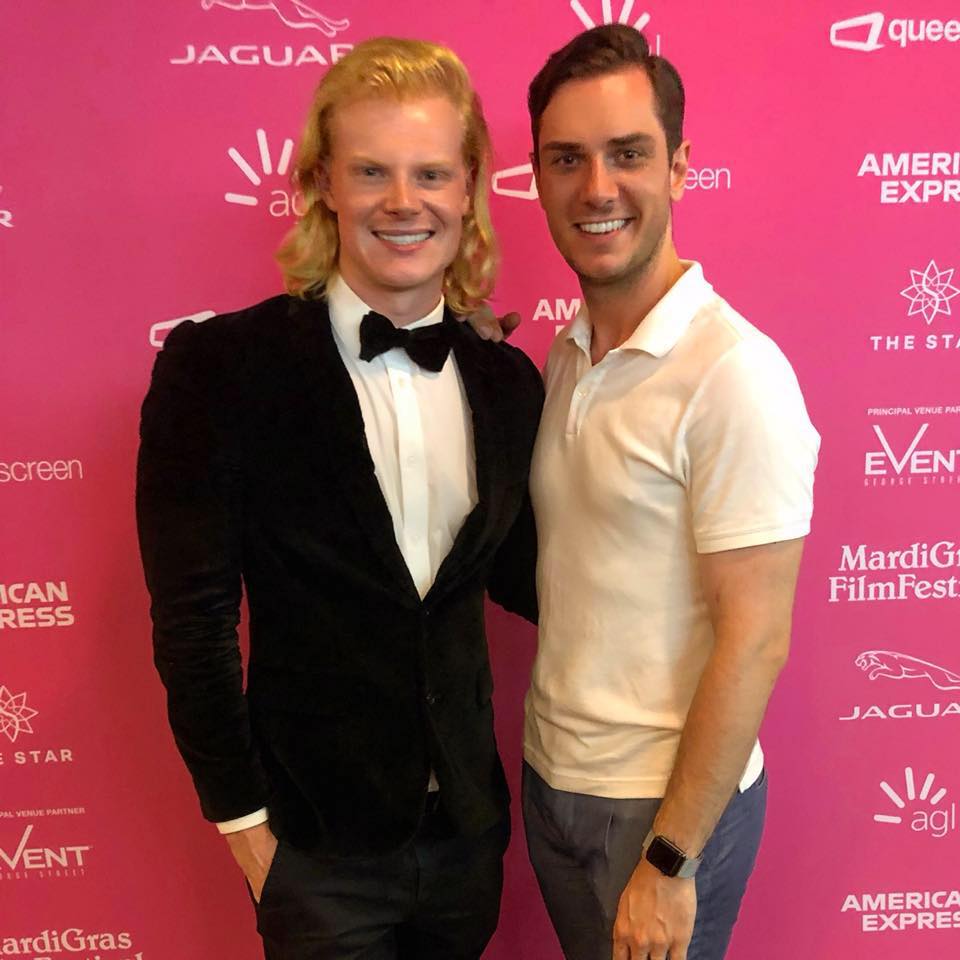 24 Jan

Jeremy Smith embraces film for its empathy, identity-seeking and scope

Film buff Jeremy Smith reviews film for well known gay magazine, DNA. He is about to start a PhD in drawing and art, his first passions, which will include mapping queer identify, exploring themes and influences developed over years steeped in gay cinema. He works at the Museum of Contemporary Art and the White Rabbit Gallery of contemporary Chinese art.

Jeremy (feature image, left) first joined the Queer Screen programming team for Queer Screen Film Fest in 2017. Although he is taking a break this year, he will review several of the 2019 films for gay magazine, DNA, including The Happy Prince about 19th century British playwright, Oscar Wilde, starring Rupert Everett, who has also wrote and directed the moving biopic.

I met Jeremy in a Newtown café, where his lively, screen-obsessed mind gives you the impression that he could talk film all day, confirming his view that the best celluloid transports viewers to a world of greater understanding and compassion.

What does film mean to you?

I am from Strathfield in Sydney's inner-west. I grew up in a very Christian family and went to the conservative Opus Dei Strathfield college. My family were anti-gay, not accepting at all. Cinema was such an escape for me as a child. It was funny because my mum and I watched old movies together (I love old movies). That is how we bonded. As a gay boy then you had to put gay narratives into stories that did not have gay narratives. I did this when my mum and I watched musicals in the 1930s and 1940s style. (Think Celluloid Closet and its Hollywood subtexts.) I am lucky that I have come of age as a millennial (Jeremy is in his late 20s).

I am a disciple of Roger Ebert, who was the first film critic to win the Pulitzer Prize for Criticism. He was passionate and not afraid to say if he laughed or cried in a film. As a young boy he was such a mentor to me. For Ebert, cinema is the machine for producing empathy. That struck me as an artist and as a lover of arts. That is the way you will change hearts and minds. You will love your gay neighbour and see people unlike you represented. You can walk a mile in someone else's shoes.

I used to watch YouTube clips. It was a huge freedom vehicle. Queer Screen offered so much more than that; it was an actual place where you could go and watch films together. If you don't see yourself represented on screen, if your stores are not being told, you are not in the collective consciousness.

I look for the directing, the cinematography, writing in a realistic voice, that tells you something you haven't heard before, films that speak to a bigger, universal truth, if there is such a thing.

A bad film to me is an untruthful film or one that is boring. I think the biggest sin in cinema is to be boring.  Sometimes I cannot separate myself from watching a film about other gay men. Call Me By Your Name, for instance, got under my skin. Objectively I thought it was brilliant, but my subjective view of the film was overwhelming. I first saw it at the Sydney Film Festival and wept.

I am a purist. There is no food while I am watching a film, nothing, I like to be in the zone. I sit near the front of the cinema. I scribble key words with pen and paper. A phone is distracting. I sit down afterwards and go through the film. I also ask a friend along so I can have a second opinion.  Sometimes I do not trust myself entirely. I talk to people and want to have other people's perspectives so they can pick up things I do not pick up on. I will go the cinema with anyone. Every time I go on a date, too, I go to the movies, to see what their response will be.

I have gotten good at recognising production values. I have read scripts, seen good acting, all these elements, but at the end of the day, there is something about strangeness for a film to be truly great. At the same time, if someone sees a hokey film that they love I appreciate that too.
We have also not had an out gay or lesbian actor ever win an Oscar and that is a huge problem. Gay films are winning awards, but the next big challenge is to have an openly gay big star, not just actors but movie stars.
Where do you think LGBTIQ cinema is heading?
The big debate in gay cinema, particularly in programming, is about happy endings. In my film criticism world, I don't care that much about happy endings. If it is real and powerful enough, it does not matter. However, in the programming sense, there is such a desperate need for gay audiences to have stories that do not end in tragedy, stories that uplift and bring unbridled joy. It is good for the film crowd to have a happy ending. Love Simon (from Fox Studios, and released in 2018) was the first studio film to focus solely on a gay teenager, which is utterly shocking. It won the 2018 MGFF audience award for best narrative. It did so well because it was a beautiful, simple profound love story.
Gay films can have bigger production values and the gayness of the character can be a part of it while also discussing bigger issues. There are gaps. With conversion therapy, the films are all about kids who do not want to go, and they find out how horrible it is and leave. Why do we not have films about religious kids who do want to go?
We have also not had an out gay or lesbian actor ever win an Oscar and that is a huge problem. Gay films are winning awards, but the next big challenge is to have an openly gay big star, not just actors but movie stars.
Written for Queer Screen by Deborah Singerman. You may also like to read Deborah's interview with writer, director and producer, Julie Kalceff here.