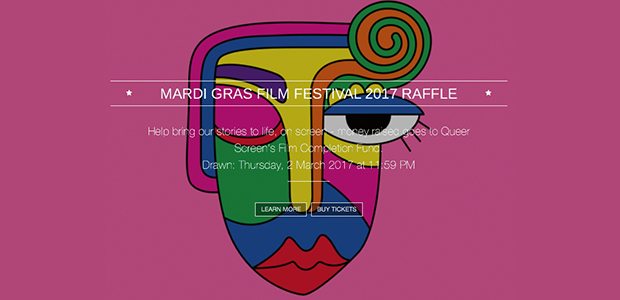 01 Feb

MGFF17 Raffle

Help bring our stories to life, on screen – money raised goes to Queer Screen's Film Completion Fund.

Queer Screen's mission is to transform and engage individuals and communities through queer storytelling on screen.

This year, funds raised from the MGFF17 Raffle will go towards our very own Film Completion Fund.

The Queer Screen Completion Fund has been established to provide independent LGBTIQ filmmakers or storytellers with financial support to tell stories that reflect the uniqueness and diversity of LGBTIQ lives and community.

So please buy a ticket today and help us to keep bringing our stories to life on screen.

LOVE,
EXCLUSIVE NYE TICKETS MCA ROOFTOP 
(RRP: $1,100.00)
Points of Difference invites you to celebrate Gay NYE in Sydney, with the only LGBTQI New Year's Eve party on Sydney Harbour.
Celebration NYE 17/18 is your ticket to freedom! Escape from this maddening crowd and ascend to a cool gay oasis with unobstructed rooftop views of Sydney Harbour, taking in both the Sydney Harbour Bridge and Sydney Opera House, all with easy access from Circular Quay train station.
---
**EARLY BIRD PRIZE** MARDI GRAS ALL AUSSIE WILDLIFE & RIVER CRUISE 
(RRP: $298.00)
***This prize will be drawn on the 24th of Feb, before the main MGFF17 Raffle draw***
Planetdweller's first stop is Featherdale Wildlife Park – Sydney's favourite local animal park. This impressive collection of primarily indigenous animals and birds, is less than one hour from the centre of the CBD. It is specifically designed so you can blend in with the animals you've heard so much about – koalas, kangaroos, emus, wallabies, cassowaries, kookaburras, dingoes, owls, wombats and every manner of Australian native wildlife and birds.
---
BIORESONANCE BODY THERAPY 
(RRP: $250.00)
Holistic therapy session to set you on the right path for 2017.
All systems of medicine aim to change the body's function of inducing a biological response. Conventional medicine aims to use chemical's mechanical model of drugs and alcohol. Biophysical models like Bioresonance use an energetics-information model to achieve the same result.
---
THE URBAN OBSERVER WORKSHOP 
(RRP: $185.00)
The Aperture Club Sydney – Street Photography Workshop
Sydney is known for its iconic Harbour Bridge and Opera House, but beyond the icons there's a diversity of people and a vibrant street culture. Downtown Sydney is perfect for street photography — people, cafes, vendors, street merchants, buskers, historic buildings, art installations and much more.
---
THE POETIC WITNESS WORKSHOP 
(RRP: $185.00)
The Aperture Club Sydney – Street Photography Workshop
Street photography is a form of art photography that features the human condition in public places — including places without people but with a human character or aesthetic.
This is an exciting workshop that centres around the eclectic atmosphere of Newtown
---
THE PORTRAIT EXPOSED WORKSHOP 
(RRP: $185.00)
The Aperture Club Sydney – Portrait Workshop
Create powerful and engaging images while exploring the laneways of Chippendale and Central Park. The Portrait Exposed is an exciting and practical workshop where you learn to produce strong, emotive portraits using natural light.
---
**EARLY BIRD PRIZE** MARDI GRAS SUNSET CRUISE 
(RRP: $178.00)
***This prize will be drawn on the 24th of Feb, before the main MGFF17 Raffle draw***
Planetdwellers presents – Friendly, welcoming and warm, just like our city, our super fun floating palace is again the perfect venue to view the breathtaking sights you've always wanted to see! Grab your friends for this must-do Sydney Mardi Gras experience, or come alone and make plenty of new ones.
Watch the sun set as you cruise the sparkling waters of Sydney's world-famous harbour, and soak in the stunning views from the rooftop deck of our luxury Bella Vista glass boat.
---
FLEXI 10 TICKETS QSFF17 
(RRP: $160.00)
10 redeemable tickets to Queer Screen Film Festival held in the second half of 2017.
The most comprehensive and ecconomical way to experience any Queer Screen film festival, the Flexi 10 pass gives you discounted tickets to QSFF17.
---
ORB – SYDNEY DANCE COMPANY 
(RRP: $150.00)
Win a double pass to Orb on Saturday 29 April, 8pm.
Be captured by the world premiere of Orb, an extraordinary lunar mystery. This double bill features Ocho, the latest collaboration in eight parts between Sydney Dance Company's Artistic Director Rafael Bonachela and musician Nick Wales, and Full Moon, a new work from Cheng Tsung-lung of Taiwan's phenomenal Cloud Gate 2.
---
CAMERA ESSENTIAL WORKSHOP 
(RRP: $145.00)
The Aperture Club Sydney – Camera Essential Workshop
Do you yearn to experiment with photography, to learn how your camera really works? Take control of your photography and start having fun. This workshop will lift the lid on the mystery and set your creativity free.
---
DANKS STREET PRODUCE MERCHANTS 
(RRP: $110.00)
Take home a gourmet hamper from the providores at DANKS STREET PRODUCE MERCHANTS at Waterloo.
Filled with an array of Italian specialty items including extra virgin olive oil, tomato and basil sauce, organic pasta, balsamic vinegar reduction, signature condiment, jam and marmalade, Italian grissini, Italian Torrone, and a lovely Hessian  shopping bag. Enjoy this sampler and then come and visit us for the best of Italian and European delights, fresh fruit and vegetables, and meet our Artisan baker, cheese monger,butcher, coffee expert or join us for lunch at Sydney's only Italian market restaurant Mezzanino.