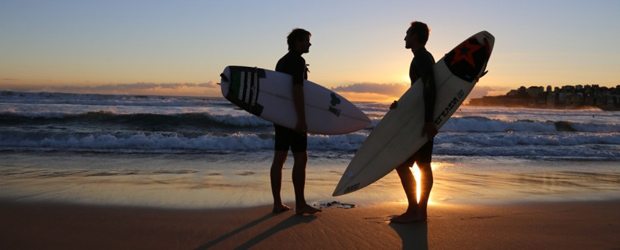 24 Nov

OUT IN THE LINE-UP

A documentary uncovering the taboo of homosexuality in surfing

TICKETS ON SALE FOR 'OUT IN THE LINE-UP' HERE!

Being gay in the line-up has always been something you don't mention. Ridicule, threats, bashing and ostracism were often what was at stake. For the first time, members of the surfing community, both professional and amateur, have spoken on camera about this hidden side of surf culture. Former world champions are among the many surfers who have participated in OUT in the line-up, a feature documentary uncovering the taboo of homosexuality in surfing.

The film has just launched a Kickstarter campaign to raise $30,000 by 13 December 2013 to secure funds for its release in early 2014.

Despite an increase in the number of elite athletes coming out in other sports, there has never been an openly gay surfer on the professional tour. In the wider surf community many hide the fact they are gay because of fear of rejection and some surfers have even taken their own lives as a result of non-acceptance.

"The precedent that has been set is that if you are gay, or we think you're gay, then you're out. And that social coercion is the most powerful coercion that exists within the surfing world," says three-time Women's World Longboard Champion Cori Schumacher.

OUT in the line-up follows the story of two gay surfers who unite to bring this issue out into the open. Together they embark on a global journey to hear the perspectives of people from all corners of the surfing community including former world champion Cori Schumacher, big wave rider Keala Kennelly and former US Congressman Barney Frank. As their journey unfolds, they uncover a culture of fear, secrecy and exclusion but are also inspired to affect change by connecting people, provoking discussion and looking to surfing's grassroots values of freedom of spirit and love for the ocean. (For an extended synopsis click here)

OUT in the line-up has been in production since April 2012, shooting in Australia, Hawaii, California, Mexico, Ecuador and the Galapagos Islands. Its production team is a group of Sydney-based filmmakers who have volunteered their time and resources to ensure this important story is told.