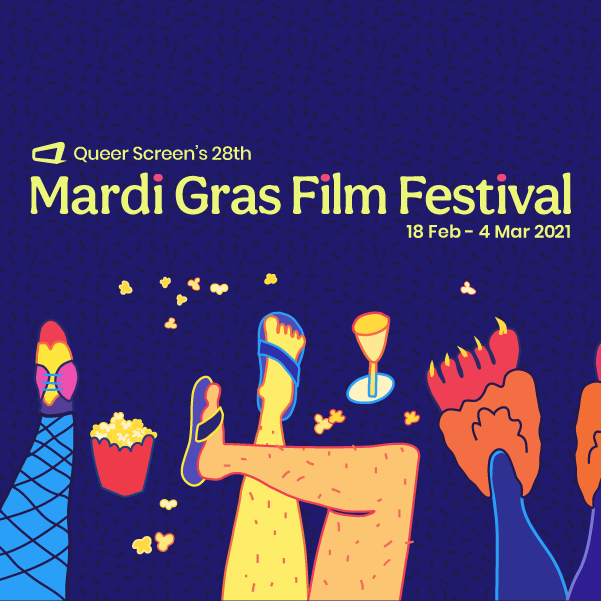 12 Jan

28th Mardi Gras Film Festival Launches!

In-Cinema And Online Streaming Tickets Are Officially On Sale Right Now All Around Australia!

Yes, you read right, Queer Screen's 28th Mardi Gras Film Festival is both in-cinema in Sydney but also on-demand for the first time. We had a nice test run for Queer Screen Film Fest last September, but this will be a first for the Mardi Gras Film Festival!

That means you can create your own LGBTIQ+ film festival experience and you can attend the festival wherever you are around Australia.

This changed and mixed format offers our loved audiences both an online or in-cinema experience for maximum safety and personal comfort. Running from 18 February to 4 March in Sydney, and nationally on-demand, the Festival will screen with restricted and socially distanced viewings at Event Cinemas (George Street), Ritz Cinemas (Randwick) and the Hayden Orpheum (Cremorne), Event Cinemas (Hurstville) and the Moonlight Cinema (Centennial Park), before touring to Canberra and the Blue Mountains in late March. Tickets are on sale now.

BOOK NOW!
Something for everyone
Despite a slow-down in film production and distribution in 2020, this year's Festival will screen 94 feature, documentary, short and episodic films, with 70% of that available on-demand. The program includes 3 World premieres, 60 Australian premieres and 15 Sydney premieres showcasing LGBTIQ+ storytelling from 30 different countries.  So if you're an avid Mardi Gras Film Festival fan in Sydney or used to come from interstate for it please do share this awesome new update that we've turned the festival to be nationally accessible with all your friends far and wide in Australia!
BOOK NOW!
What you love is what we have
To cater for everyone's different tastes and moods we really have a lot to choose from. In fact, more than ever! Do you like it extra sexy? Do you prefer docos or episodic or shorts? From feature films and premiers to online events with panellists discussing current, emerging and pressing issues for our LGBTIQ+ community. You will likely find quite a few things in our schedule that will likely appeal to you.
Tickets for all films are on sale now including festival passes. You can also check out our Queer Screen Mardi Gras Film Festival app, or call (02) 9280 1533 to book.
Become a Queer Screen member for discounted tickets and priority entry.
BOOK NOW!