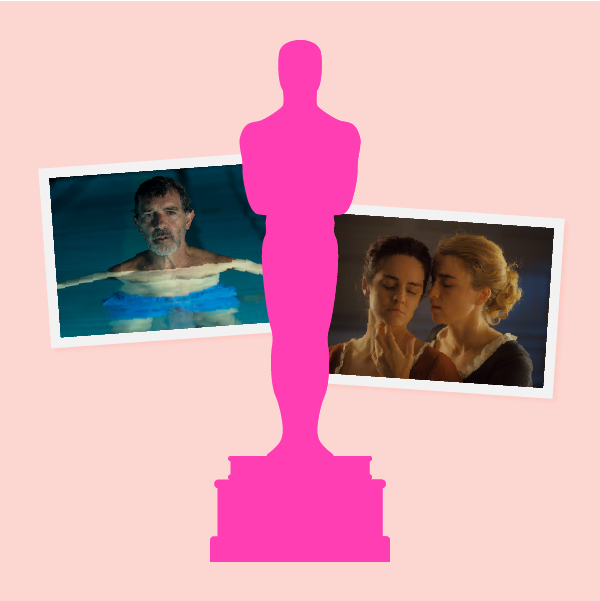 03 Sep

Could these QSFF19 films win Oscars?

The two titles coming to QSFF19 that have Oscar in their sights

With QSFF19 just about to launch, we are in for a treat judging by the international attention garnered by two titles in our line-up. Having already won praise at the Sydney and Melbourne Film Festivals, these two look like they could go all the way and get some Academy Award glory in the new year.

Portrait of a Lady on Fire and Pain and Glory are selling fast and promise a smouldering lesbian costume drama on the one hand, and a reflective, heart-wrenching reassessment of memories and past love on the other.

For our opening night film Portrait of a Lady on Fire, its promising title is warranted. Set in 18th-century France on an isolated island in Brittany (oh, the solitude and scope for romance!), a painter Marianne (Noémie Merlant) becomes the companion of Héloise (Adèle Haenel) – a young aristocrat whose mother wishes for a portrait of her to show prospective, wealthy husbands. An artistic dance follows as they go on long walks, the painter's intimate glances ripening as the relationship develops.

As Academy Award campaigns go, victory at Cannes Film Festival is great place to start, and writer/director Céline Sciamma saw her film take home Best Screenplay and the Queer Palm which means Oscar nods for Best Original Screenplay and Best Foreign Language Film would be the most likely. However it could possibly also see nominations for direction and costume design. With this year's hit film The Favourite, which scored 10 Oscar nominations, showing the magnetism of lesbian themes, it's not hard to see that Sciamma's masterpiece could get some Oscar love, especially when critics have fallen over themselves to praise it. For instance, The Guardian's Peter Bradshaw loved its "mastery of classical style", while Indiewire dubbed it "a masterpiece… [offering a] devastatingly unforgettable story of love and memory. As perfect a film as any to have premiered this year."

At the other end of the experience spectrum is Pain and Glory by heralded auteur Pedro Almodóvar, starring one of his favourite actors Antonio Banderas, paired with another of the director's beloved performers, Penélope Cruz. Banderas plays a depressive gay Spanish filmmaker and in a mix of autobiography and fiction, Almodóvar "blurs the line between art and life", writes Observer film critic Mark Kermode,

There are flashbacks to an unusual childhood and to a tumultuous and unforgettable love affair, revived in a searing way. Reviews have paid tribute to Banderas's performance and critics have noted he has never seemed so vulnerable. He also won at Cannes, being given the Best Actor prize and Indiewire predicts that his work in the film could grab him his first Oscar nomination, stating that, "Banderas has never given a performance like this: intimate, subtle, emotional, sensitive, responsive."

"Everything about Pain and Glory is awake and alive, and Almodóvar's nerve endings become ours, too", says Time magazine. While Variety enthuses, "This is the first time we've seen the master director's soul so purely exposed."

So, don't miss the chance to be ahead of the field with these two enticing films, both selling fast!