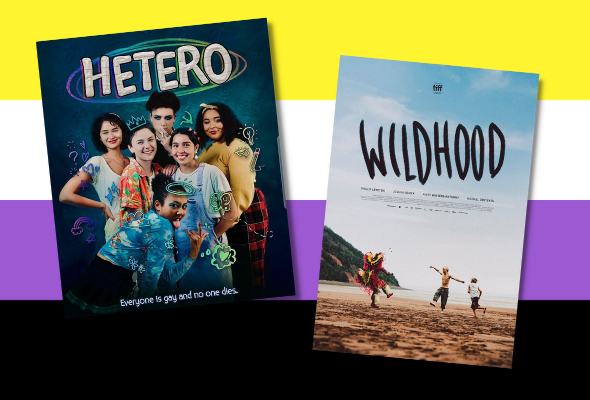 14 Jul

Films to watch on International Non-Binary People's Day

International Non-Binary People's Day falls on 14 July, in the midst of Non-Binary Week. Both events serve to remind us that we live in a predominantly binary society, and to support the people who identify as non-binary not just on these days, but every day of the year.

We went back through the Mardi Gras Film Festival 2022 to recommend a few films (and one episodic) to watch to celebrate non-binary awareness and non-binary people.

Check them out and tell us what you think.
Hetero
This episodic will have you cackling from the opening scene, as five queer high schoolers recruit straights to save their Gay-Straight Alliance, all while catching feelings, navigating queerness and being teenagers! Watch it on YouTube here.
Wildhood
Two-spirit Mi'kmaw teen Link reclaims his heritage and embraces who he really is in this Canadian film, a beautiful and captivating drama about empowerment and self-discovery. Watch it now on SBS On Demand.
As We Like It
Including an all-female cast, animated sequences, light cyberpunk as well as the tradition of Shakespeare and Taiwanese culture melded together in perfect harmony, this film is a rare and entertaining treat. Not yet available on streaming, but keep an eye out!
Finlandia
This stunning film is a captivating film about a group of muxes – the indigenous Zapotec 'third gender' – in rural Mexico who come together to create beautiful traditional dresses and attract the attention of a large, exploitative fashion house. This is a poignant and vibrant magical realist drama about found family, spirituality and, ultimately, hope. Again, pending release in Australia, but hopefully coming very soon!
Coming to You
This is a powerful, insightful documentary about two mothers fighting for the rights of their children to live freely as part of the LGBTQ+ community in Korea. Streaming to come soon.