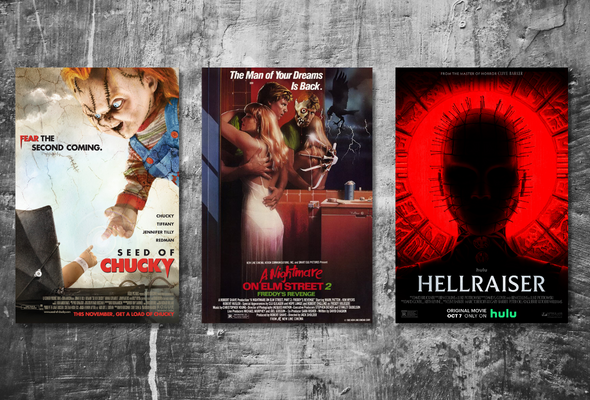 20 Oct

Five iconic queer horror films to watch this Halloween

Happy Halloween! Horror is a genre well-known and well-trodden by queers from all walks of life. Be it in subtext or right there on the surface, queer people have had their stamp on horror since the very beginning.

So, to celebrate the spooky season, here are five iconic queer or queer-adjacent horror movies to stream and scare yourself silly with this Halloween.

We'd love to hear your reviews, thoughts and any of the countless movies that didn't make the list, so get in touch on social media.
Hellraiser (2022)
The original Hellraiser is based on a novella by celebrated gay author, Clive Barker, and features gay characters from the very start, way back in the 1980s. In 2022, this is no different, with queer characters, gore and terror in abundance. Notably, the iconic Pinhead is now played by trans actress Jamie Clayton. Watch it on Binge here.
A Nightmare on Elm St Part 2: Freddy's Revenge
The second instalment in this series featuring Freddy Krueger as the villain. This film has developed gay cult status over the years, with many of the key players admitting to a deliberate gay subtext for the entire film. Watch it and decide for yourself now on Apple TV.
High Tension (Haute Tension)
This film needs to be entered knowing as little as possible. It follows two women who become stranded alone in a secluded cabin in the woods, stalked by a maniac. Stream it on YouTube now.
Seed of Chucky
Yes, you should absolutely watch Bride of Chucky first. Both these films (the fourth and fifth in the Chucky franchise respectively) are excellent Halloween watches. Seed of Chucky also follows this unusual family as they navigate their non-binary child, Glen/Glenda (amongst a lot of murder). Watch it now on Apple TV.