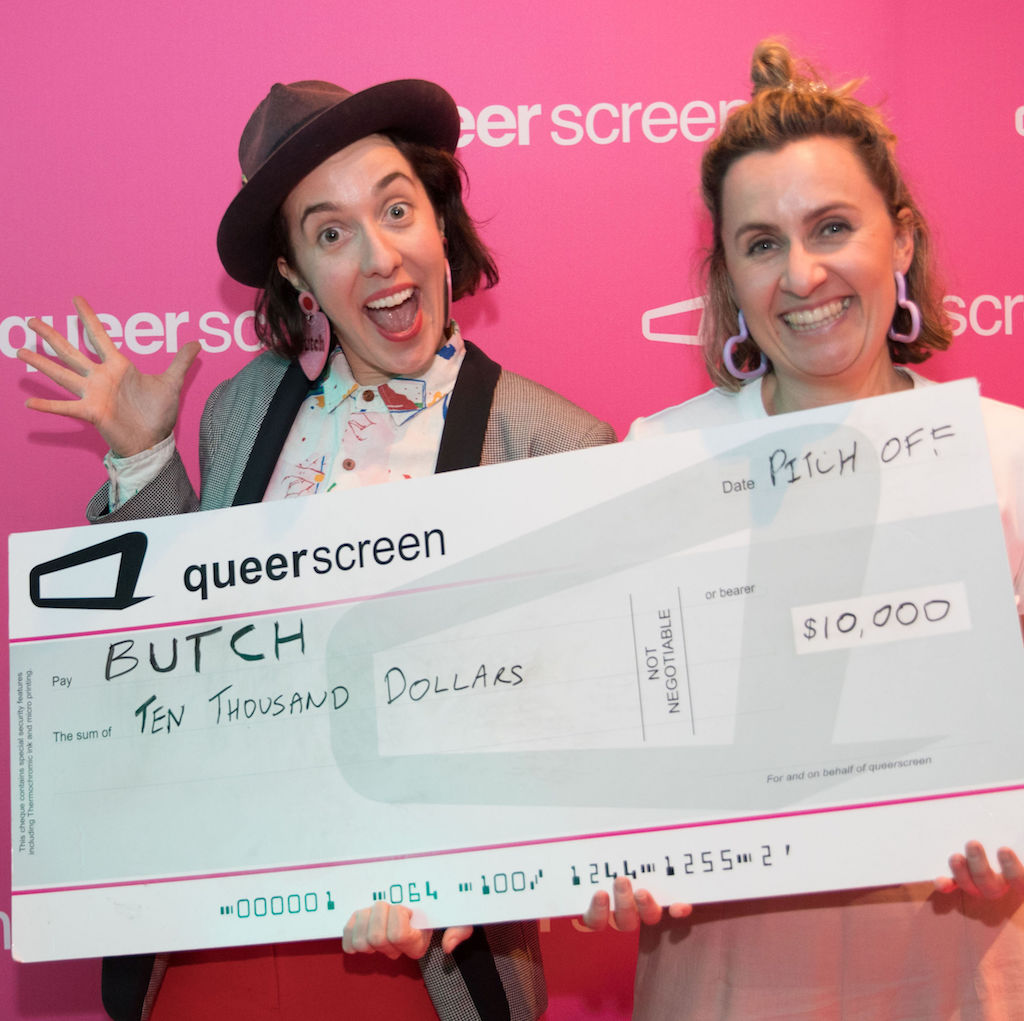 02 Oct

Meet the Filmmaker and Pitch-Off Winner: Holly Austin – Butch

The 2018 Queer Screen Film Festival ended on a high note with its inaugural Pitch-Off event. A panel of esteemed judges faced the formidable task of choosing a winner amongst the six finalists competing for $10000 of funding for their proposed LGBTQI film projects, courtesy of St.George Bank.

Despite the creative excellence on show in each finalists pitch, sadly, only one pitch could win. So, after much deliberation the judges selected Butch, a multi-character queer comedy web-series as our Pitch-Off winner!

Butch is the story of Gem and Tiff, who have just broken up, and their dog Butch's comical attempts to reunite them.

Queer Screen was fortunate in speaking with Holly Austin, Butch's Co-Writer and Producer shortly after she co-presented her winning pitch with co-writer, Zoe McDonald. Holly will also plays the role of Tiff, and here's what she had to say:

Queer Screen: Congratulations Holly! How does it feel to have won Pitch-Off?

Holly Austin: Zoe and I are thrilled to have won! We believe the Pitch-Off initiative will help future LGBTQI filmmakers and performers have their work seen as well as providing direct access to audiences.

QS: Your Pitch-Off presentation was very engaging and polished. How did you and Zoe prepare? Were you nervous?

HA: This was the first time Zoe and I had pitched a project and we were slightly nervous about being put through our paces by the judges. On the other hand, we approached it as an excercise in succinctly articulating the ideas behind Butch.

QS: How did you and Zoe celebrate your win?

HA: We didn't have a great deal of time to celebrate, as we both had to hop on a plane back to Melbourne shortly afterwards. We did manage to sneak in a couple of drinks at a nearby bar! Getting the oversized cheque we won on the plane as hand-luggage was quite a challenge!

QS: How long has Butch been in development?

HA: Zoe and I met while working on the sketch comedy series, 'Open Slather'. Zoe has a Masters in Screenwriting and has worked consistently on Butch for over a year.

QS: What will be the first step in getting Butch up and running?

HA: We presented the first scene of Butch's pilot episode at the Pitch-Off Event and were happy with how it was received. Naturally, our priority is to film the rest of the episode and plan on doing this very soon!

QS: Tell us a bit about the titular character of Butch.

HA: Butch will be played by Clancy. She is a beautiful, tan-coloured Shar Pei owned by our Director of Photography. I think we are going to have our work cut out for us reining in her diva antics! Clancy's character really wants to see Gem and Tiff get back together.

QS: Does she succeed?

HA: I'm not saying, you will have to watch Butch to find out!

QS: What do events like the Queer Screen Festival and Mardi Gras Film Festival represent to you?

HA: Its wonderful to see our stories shared and celebrated on screen. These festivals give relevant audiences the oportunity to come together and access Queer film content. The Butch team is really happy to create a film project to share with the LGBTQI community and beyond.

Queer Screen eagerly anticipates and supports its first Pitch-Off winner, Butch, a comedy sure to resonate with anyone who has had their heart broken…..and needs to laugh about it!