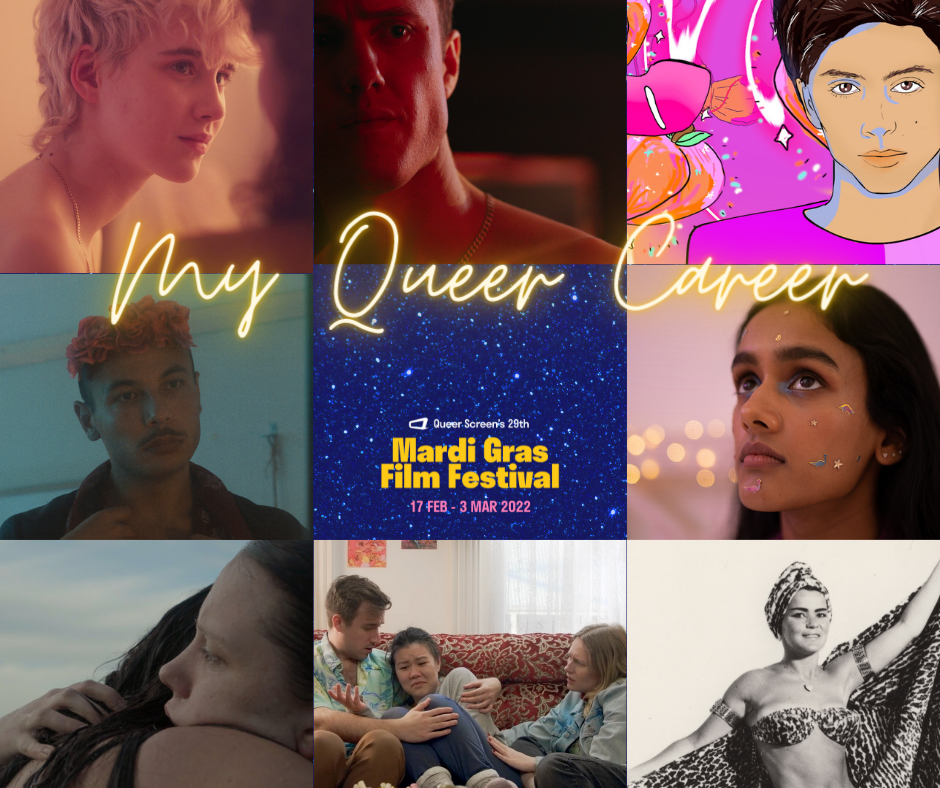 28 Feb

My Queer Career winners | Mardi Gras Film Festival 2022

My Queer Career is Australia's richest queer short film prize with over $16,000 worth of cash and support to be won. Check out all the photos from My Queer Career here.
Best Film
Beautiful They – (written and directed by Cloudy Rhodes, produced by Ella Millard)
$3000 cash from The Stephen Cummins Film Trust
$2000 worth of legal advice from JP Media Law
Automatic Entry in the Iris Prize, the world richest prize for LGBTIQ+ short film
Best Screenplay
Sunburn –  writer Claudia Bailey
$750 cash from Event Cinemas George Street
Emerging Performer
Tommy Misa for Nelson
A 2 hour one-on-one acting masterclass, valued at $500 from Actors Centre Australia
Emerging Filmmaker
The team from Are You Still Watching?
Panavision camera hire, valued at $5000
Audience Award
Illustrating Sam Newton (directed by Lily Drummond, produced by Payton Hogan)
$5,000 worth of Prost Production Support from Spectrum Films
This year, My Queer Career screened with full open captions, and the introduction and awards ceremony was Auslan interpreted.
My Queer Career 2022 Jury
Ruth Caudeli
Ruth was born in Valencia, Spain. She has a Masters in film directing from the renowned ESCAC film school and another in fiction for television from the Pompeu Fabra university. She studied audiovisual communication at the Universidad Politécnica de Valencia, where she won the award for excellence. She is a professor of film and television  and theatre director as well. She has written and directed several feature films including Eva+Candela (2017) and Leading Ladies (2021). You can also see an interview here with our Festival Director, Lisa Rose.
Mitchell Stanley
Mitchell recently produced Warwick Thornton's documentary television series, The Beach. His first feature, We Are Still Here, a multi protagonist anthology feature film is set to be released in 2022. Recently produced Jon Bell's  psychological horror short film, The Moogai, now in development on the feature version with co producers Causeway Films (The Babadook) where the short won several festival awards including best horror at SXSW and best short at Melbourne International Film Festival.
Matthew Dabner
Matthew is an AFI-award nominated screenwriter (The Square), winner of the Sydney Film Festival audience award (as producer of Cedar Boys) and renowned script editor (Riot, The Family Law) and development executive. Matthew is currently a Media Arts and Production lecturer at the University of Technology Sydney.
My Queer Career entrants | Mardi Gras Film Festival 2022
Are You Still Watching? | Directed by Alex Cardy, Tali Polichtuk, Kitty Chrystal | Produced by Alex Cardy, Alexandra George, Tali Polichtuk
Are You Still Watching? explores the emancipatory power of the queer imagination, combining erotic fan fiction tropes, magical realism and a firm camp sensibility
Beautiful They | Directed by Cloudy Rhodes | Produced by Ella Millard
Violet and Blue's youth collide in an early morning toke that leads to the ocean where connection stirs. What results is a tender, uplifting, queer surf-romance.
A Big Life | Directed by Anna Brownfield | Produced by Anna Brownfield
Told through the tales of Bobbie Nugent, A Big Life is a story of butches and femmes, gangsters, sex workers, travelling sideshows and early Australian transgender history.
Dwarf Planet | Directed by Adrian Chiarella | Produced by Katie Amos, Bec Janek
An awkward teenager spends the last of his birthday money on a male sex worker. It's an uneasy encounter involving secrets, desires and a lesson in astronomy.
Illustrating Sam Newtown | Directed by Lily Drummond | Produced by Payton Hogan 
An outgoing New York City art student falls for an introverted photographer who happens to be deaf – and living on the other side of the world.
Nelson | Directed by Sara West | Produced by Duncan Ragg, Katherine Shearer
Looking out from the safety of his bedroom, Nelson craves a genuine connection with a stranger – to see and be seen.
Sunburn | Directed by Jaslyn Mairs | Produced by Ben Bauchet, Lev Jutsen
Jaslyn Mairs' debut offers a naturalistic depiction of a layered friendship filled with desire and longing in the context of grief.
We're Doing Well | Directed by Andrew Mills | Produced by Andrew Mills
When Laura and Johnathan's housemate can't go on a pre-booked weekend away, both Laura and Jonathan feel they deserve the free weekend more than the other.
Proudly Supported By:
Stephen Cummins Film Trust, Spectrum Films, Panavision, JP Media Law, Event Cinemas, Actors Centre Australia, Iris Prize, Queer For Your Ears