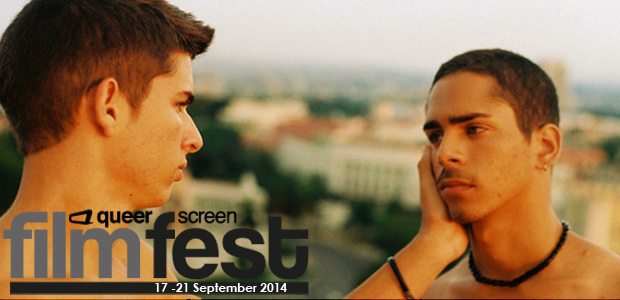 09 Sep

Queer Screen Film Fest 2014
Our hugely successful Queer Screen Film Fest returned in 2014 bigger than ever.
We were proud to reveal 11 sessions of great films screening between 17 and 21 September 2014 at Event Cinemas George Street and Dendy Newtown.
Additional Free Events:
In Conversation with Daniel Ribeiro
FREE, Thursday 18 September, 5pm, Bon Marche Studio, UTS
The event is an hour long conversation with The Way He Looks director Daniel Ribeiro about his work, including the transition from short films to an award winning feature length production.
Sydney Queer Filmmaker Event
FREE – Saturday 20 September, 11.30am – 1.30pm
An event designed to provide a space for queer filmmakers of all experience, including young filmmakers, to meet-up, connect and talk filmmaking.
For our hearing impared friends, see details for subtitled movies.
#01 – WEDNESDAY 17 SEPTEMBER 7:00 PM – EVENT CINEMAS GEORGE STREET –

OPENING NIGHT

THE WAY HE LOOKS
by Daniel Ribeiro Portuguese with English subtitles    SOLD OUT
This delightful film is the winner of the Teddy Award at Berlin Film Festival. Leonardo, a blind teenager, is trying to break away from his protective parents and live independently. His best friend Giovana guides him home from school every day, but soon finds herself replaced by the new boy at school.
#02 – THURSDAY 18 SEPTEMBER 7:00 PM – EVENT CINEMAS GEORGE STREET
APPROPRIATE BEHAVIOR by Desiree Akhavan
English, no subtitles SOLD OUT
This witty, awkward, honest and laugh out loud funny film has wowed audiences across the world.
It is a hilarious journey of self-discovery when Shirin heads back into the dating scene, stumbling from one disastrous encounter to the next, all the while trying to figure out who she is, come out to her Iranian family, and either make her ex-girlfriend jealous or successfully win her back.

#03 – FRIDAY 19 SEPTEMBER 6:30 PM – EVENT CINEMAS GEORGE STREET
SOONGAVA: DANCE OF THE ORCHIDS by Subarna Thapa
Nepali and English with English subtitles
This debut feature was selected as Nepal's entry for the Oscars in the Best Foreign Language Film category and won the Special Jury Award at the Toronto Inside Out Film Festival.
As Diya's father arranges her marriage to a man she does not love, she is forced to face her truth. Diya longs for her independence to fulfil her dream of becoming a traditional Nepalese dancer. As her friendship with Kiran, a fellow dancer deepens and develops into a love affair, she is faced with life changing decisions.

#04 – FRIDAY 19 SEPTEMBER 8:30 PM – EVENT CINEMAS GEORGE STREET
MIXED SHORTS
English, Korean and Hebrew with English subtitles 

SOLD OUT


Mixed Shorts, our popular collection of international short films returns for another round of outrageous comedies, quality drama, and entertaining documentaries. This collection contains the best of gay, lesbian and trans* shorts selected from over 100 submissions.
#05 – FRIDAY 19 SEPTEMBER 10:30 PM – EVENT CINEMAS GEORGE STREET
POLYESTER by John Waters
English, no subtitles

SOLD OUT


Presented in Odorama!
This bad taste comedy stars drag queen superstar Divine as put-upon housewife Francine Fishpaw, tormented by an adulterous husband, perverted offspring… and bad smells! Co-starring Tab Hunter and Edith Massey, and with a soundtrack by Debbie Harry and Michael Kamen.

#06 – SATURDAY 20 SEPTEMBER 3:00 PM – DENDY CINEMAS NEWTOWN
SONGS FOR ALEXIS + MYMY
English, no subtitles
Ryan is an 18 year old musician who loves one thing more than his guitar: his girlfriend Alexis, whom many of his songs are written about. Alexis and Ryan met as teens at summer camp and fell in love soon after. Ryan had already begun his gender transition.
A love story for all, documentary Songs for Alexis reminds us about the joys of teenage infatuation, and how family support or rejection shape our relationships.
In MyMy a young man longs to connect with the world. Frustrated, he uses a cyberfeminist CD-ROM to create a cyborg twin. This lo-fi sci-fi short film is an experimental hybrid of documentary, fiction and performance art and the film features a compelling cast of Sydney queer artists and performers.

#07 – SATURDAY 20 SEPTEMBER 6:30 PM – EVENT CINEMAS GEORGE STREET
TO BE TAKEI by Jennifer M. Kroot
English, no subtitles
This stellar documentary reveals the exceptional life of George Takei – the Star Trek legend and outspoken LGBTIQ advocate. Now 76, nine years after formally coming out, Takei and his manager-husband of 25 years, Brad Takei, have become a poster couple for marriage equality.
This films follows Takei and Brad as they prepare for Takei's dream project, Allegiance, a musical based on his harrowing childhood experiences inside a Japanese-American internment camp.

#08 – SATURDAY 20 SEPTEMBER 8:30 PM – EVENT CINEMAS GEORGE STREET
THE LAST MATCH by Antonio Hens
Spanish and Italian with English subtitles

SOLD OUT


Set in Havana, The Last Match chronicles the lives of Rey and Yosvani, two young men who will do anything to survive. Yosvani makes ends meet working with his fiancées father selling goods on the black market. Rey is a sex worker and makes money from tourists looking for a holiday romance.
Featuring natural performances, this is a glimpse into a tough life on a beautiful island where survival is the only choice.

#09 – SUNDAY 21 SEPTEMBER 3:00 PM – DENDY CINEMAS NEWTOWN
MATTERHORN by Diederik Ebbinge
Dutch with English subtitles  SELLING FAST
Fred, 54 and retired, lives alone after the death of his wife and departure of his son. When a homeless man, Theo, abruptly enters Fred's world his structured way of life becomes lost. Soon Theo reveals a special talent, and Fred's grief and loneliness abates, revealing a passion for travel and an escape from the jail he had created.
Winner of countless Audience Awards, from Rotterdam to Moscow, Matterhorn is another superb feel-good treat for Queer Screen Film Fest.

#10 – SUNDAY 21 SEPTEMBER 6:30 PM – EVENT CINEMAS GEORGE STREET
THE ABOMINABLE CRIME + VEIL OF SILENCE
English, no subtitles
The Abominable Crime exposes the culture of homophobia in modern day Jamaica, as told through the stories of locals whose lives have been changed forever. Simone, a young single mother, and lesbian, has to make a choice: remain in Jamaica with her daughter, or seek asylum without her.
In the lead up to the signing of Nigeria's 'Anti Same-Sex Marriage Bill' Veil of Silence takes a close look at how the bill is actually hiding legislation that criminalises homosexuality and, in doing so, re-writing the destiny of Nigeria's gay and lesbian citizens.

#11 – SUNDAY 21 SEPTEMBER 8:30 PM – EVENT CINEMAS GEORGE STREET – CLOSING NIGHT

PRIDE by Matthew Warchus
English, no subtitles.  SOLD OUT
It's the summer of 1984 – Margaret Thatcher is in power and the National Union of Mineworkers is on strike. At the Gay Pride March in London, a group of gay and lesbian activists decides to raise money to support the families of the striking miners. The problem is, the Union seems embarrassed to receive their support.