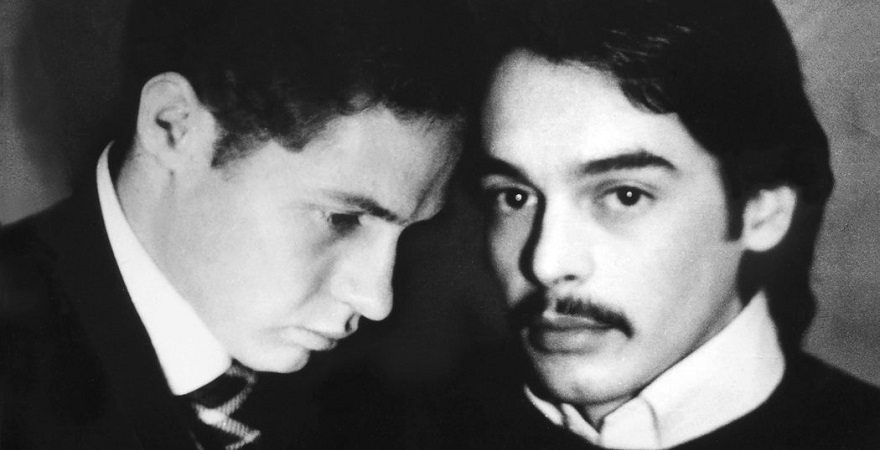 23 Jul

Queer Screen Film Fest 2015

Queer Screen Film Fest 2015 highlights.
Queer Screen were pleased to close the festival with the much anticipated Freeheld  (pictured above), starring Ellen Page and Julianne Moore. There were several Australian Premiere screenings, an Australian Showcase presentation of a new LGBTI film by Tony Ayres, some massive star-studded Hollywood dramas and the best Queer docos from around the world. Also returning was our popular Mixed Shorts package led by Australian Tim Marshall's Iris Prize collaboration, Followers, which screened at Sundance earlier in 2015. Check out the full line-up below.
–
TUESDAY 22 SEPTEMBER 7.00 PM –

OPENING NIGHT

BOULEVARD by Dito Montiel  

SOLD OUT


USA; English with no subtitles

Robin Williams gives a stellar performance in Boulevard, his final dramatic role. Williams plays Nolan Mack, a man depressed with his monotonous life – he has worked at the same bank for decades and now sleeps in a separate room to his wife. After a near-miss car accident Nolan meets a beautiful young man, sex worker Leo (Roberto Aguire), and a dynamic relationship develops. The encounter leads to an unexpected sexual awakening for the middle-aged Nolan and is something powerful rarely seen on screen.
WEDNESDAY 23 SEPTEMBER 7.00 PM

CUT SNAKE by Tony Ayres   

SOLD OUT


Australia; English with no subtitles

Following the success of Aussie crime stories such as Animal Kindgom, Underbelly, and Chopper, this sexy thriller will have you captivated as bright-eyed twenty-something Sparra (Alex Russell) is dragged back into a past he has tried so hard to hide. Sparra, recently moved to Melbourne and about to marry Paula (Jessica de Gouw), is looking at a life of domestic bliss, when he is visited by an old associate from prison, Pommie (Sullivan Stapleton).
THURSDAY 24 SEPTEMBER 7.00 PM

GRANDMA by Paul Weitz  

SOLD OUT


USA; English with no subtitlesCranky poet Elle (Lily Tomlin) has just been dumped by her girlfriend. Still reeling from the death of her long-term partner, she hasn't written in months. Meanwhile Sage, Elle's granddaughter, has no money to pay for an abortion her mother can't know about. When Sage shows up on her grandmother's doorstep, the two embark on a life-changing journey across L.A. Grandma also features a strong and diverse cast including Laverne Cox and Marcia Gay Harden, and directed by Paul Weitz, of American Pie and About a Boy fame.
FRIDAY 25 SEPTEMBER 6.30 PM

THE FOXY MERKINS by Madeleine Olnek
USA; English with no subtitles

From the team behind the great Codependent Lesbian Space Alien Seeks Same comes their next quirky comedy. Margaret is a down on her luck asthmatic lesbian sex worker in training. Hanging out on the streets of New York and sleeping in a public bathroom, she meets Jo a beautiful heterosexual grifter, who unlike Margaret is an expert at picking up women. Working the streets together they encounter an array of bizarre characters from husky-voiced seductresses to mumbling erotic accessory salesmen and a plethora in between.
FRIDAY 25 SEPTEMBER 6.45 PM

GUIDANCE by Pat Mills
Canada; English with no subtitles

A drunk, deadbeat actor pretending to be a high school guidance counsellor, Pat Mills' debut as writer-director-star is a recipe for a hilariously bubbly film. On the brink of being evicted, told he is dying of stage 3 skin cancer and recently unemployed, David Gold lands a position at a high school where he provides unorthodox techniques to his troubled students. An audience favourite at the Toronto Film Festival, Guidance tackles the corrupt-the-youth comedy with a character that is surprisingly warm and amusing.
FRIDAY 25 SEPTEMBER 8.30 PM

MIXED SHORTS  

few tickets left


Varied languages with only foreign language films with English subtitlesMixed Shorts, our popular collection of international short films returns for another round of outrageous comedies, quality dramas, and entertaining documentaries. This collection includes the best of gay, lesbian and trans shorts, including Followers, the Iris Prize produced short film by Australia's Tim Marshall which is fresh from its Sundance debut. Also included is The Parker Tribe, a superb family drama which is one of the must-see lesbian films of recent years and will make huge stars out of its director and young actors. See the full line-up when clicking Buy Now below.
SATURDAY 26 SEPTEMBER 1.00 PM

A SINNER IN MECCA by Parvez Sharma  

SOLD OUT


USA, Saudi Arabia, India; Arabic, Hindi, Urdu, English, with English Subtitles

The gripping new documentary by Parvez Sharma (A Jihad for Love) follows his devotional pilgrim to Mecca, in Saudi Arabia, as he explores his complicated relationship with Islam and whether someone gay can be a 'good' Muslim? Sharma takes the audience into uncharted scenes of sacred mosques and ceremonial sacrifices, defying bans on photography to delve into the historical roots of his religion and the complexities of contemporary Islam. The winner of the Jury Award for best doco at Outfest, it is unlike anything you've seen before.
SATURDAY 26 SEPTEMBER 3.00PM

MARGARITA, WITH A STRAW by Shonali Bose, Nilesh Maniyar  

few tickets left


India; English and Hindi with English subtitles



Laila, a talented writer is wheelchair bound with cerebral palsy, but although those around her may treat her differently, she never lets it get in her way as she strives to find love, success and a fulfilled life. Living with her close knit family everything changes when she scores herself a scholarship to University in New York. Travelling with her mother, it is there that she meets Khanum, a blind out lesbian of Pakistani and Bangladeshi descent who Laila unexpectedly finds herself falling for.

SATURDAY 26 SEPTEMBER 6.30PM

TAB HUNTER CONFIDENTIAL by Jeffrey Schwarz
USA; English with no subtitles1950's Hollywood, Tab Hunter is number one at the box office and the music charts; he has a sea of screaming girls at his feet, but Tab Hunter has a secret. This tell-all documentary from I am Divine and Vito director Jeffrey Schwarz is a fascinating look behind old Hollywood and an insightful take on what it was like for the charming boy next door, as he lived his life in the closet, whilst publicly dating a bevy of starlets and privately romancing men like Psycho star Anthony Perkins. Also featuring Clint Eastwood, Debbie Reynolds and John Waters.
SATURDAY 26 SEPTEMBER 8.30PM

IN THE GRAYSCALE by Claudio Marcone  

few tickets left


Chile; Spanish with English subtitles


Bruno seems to have the perfect life; outrageously handsome, a successful architect, married with a son, living a privileged life in Santiago de Chile. His world is turned upside down when he meets the vibrant Fernando. Their sexual tension is palpable leading to some erotically charged moments. Bruno tries to navigate his own understanding of sexuality in the midst of Fernando's black and white opinions – he believes there's gay or straight, and nothing in between. A beautifully shot, sensual and tender drama that explores the grey areas.

SUNDAY 27 SEPTEMBER 3.00PM

KATE BORNSTEIN IS A QUEER & PLEASANT DANGER by Sam Feder
USA, Canada; English with no subtitles


Kate Bornstein has been a pioneer in deconstructing gender, a trailblazing artist and activist, and a self-titled "gender outlaw" for many years. Now, in a playful and wickedly fun documentary, named one of The Advocate's best LGBT documentaries of 2014, we witness firsthand the whirlwind life of this polarizing figure. This incredible doco follows the fascinating work of the brilliant personality who paved the way for generations of gender non-conforming people, as well as giving us a thoughtful glimpse into her personal life.

SUNDAY 27 SEPTEMBER 6.00PM

FREEHELD by Peter Sollett  

SOLD OUT


USA; English with no subtitles
Be one of the first in the world to see this major new film. Based on a true story that made headlines in 2007, Freeheld stars Julianne Moore as Police Detective Laurel Hester, whose world is shattered when she becomes terminally ill and government officials prevent her from assigning her pension to her partner, Stacie Andree (Ellen Page). In this heartrending story, Laurel spends her last days fighting to overrule the decision, and larger-than-life gay political activist Steven Goldstein (Steve Carell) rally to Laurel's cause.