15 Dec

Luke Tribe Q&A – The designer Behind MGFF23!

That lush blush pink you're seeing all over our website is the centrepiece of our Mardi Gras Film Festival 2023 branding. The yellow lips and delightful eyeball (with a couple more exciting characters to come), along with the perfect choice of pink, all come from the brilliant mind of Luke Tribe. Say hello to Luke, our wonderful designer, who is back for his second year on the MGFF team.

We sat down with Luke to give you all a little insight into the brilliant creative mind behind our key art for the 30th Mardi Gras Film Festival, and here is what he had to say.

Tell us a bit about yourself, what do you do for work and for fun?

Hello! I'm Luke (he/him). A motion designer and illustrator living in Sydney. I love the idea of escapism. So for fun, I enjoy films, tv shows and video games. An introvert's dream!

I also love a crafternoon, collecting retro toys and overthinking. 

What does the Mardi Gras Film Festival mean to you? 

The Film Festival is one of my highlights of Mardi Gras. Fills my cup up to be able to be with other movie fans, watching such a broad range of stories.

It's also a great chance to be with the community enjoying popcorn and a choc top.

As this is your second consecutive year working with Queer Screen on the key art, what excites you about working with Queer Screen and on MGFF23? 

The Mardi Gras Film Festival attracts people from all corners of the queer community together to experience stories from all over the world. It's a chance for us all to see the diversity our community has to offer. And I think that's pretty great.

Queer Screen works really hard to get the best mix of queer films in front of its audience. I think they provide a really great experience for people who might not be into the clubbing and partying side of Mardi Gras a chance to get out, meet people and be moved by film.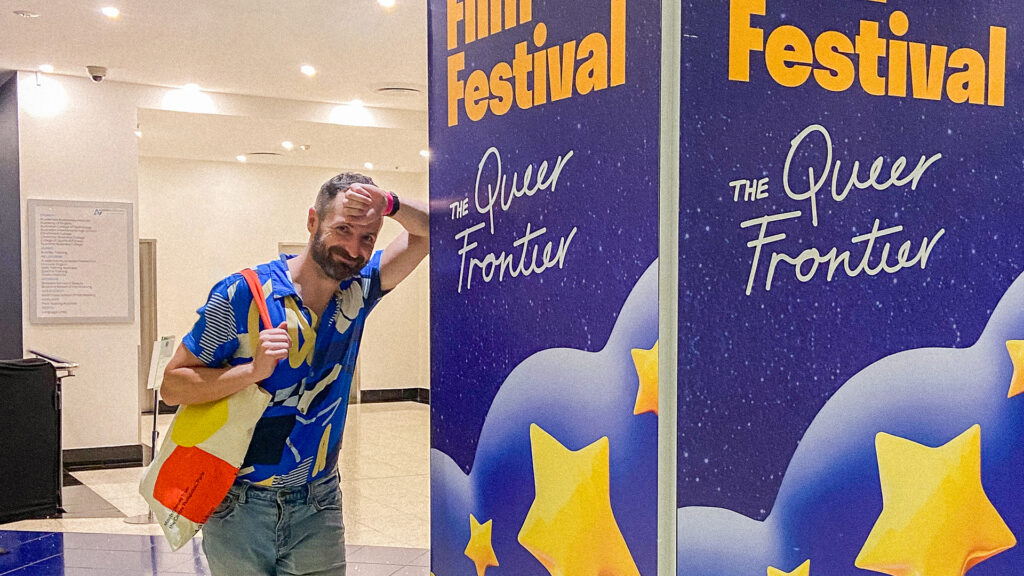 Whilst our lips are still sealed on the key art, we can definitely say that the work was inspired by your own brainchild! Without giving it all away, can you share a little bit about what inspired you to bring this art to life? 
Film has always been such a core of my identity. It's a medium that lets me escape.
(Which was ideal given the last few years) It's a sensory experience that can make me cry, laugh and even prompt an existential crisis or 12. My ears can be taken away by a film's catchy soundtrack and my eyes can snack on the colourful visuals. And that's the beauty of film. It's a real pick'n'mix for the senses. 
What's your favourite film on the teaser line-up? 
Like heaps of queer country kids, I moved to the city. So 'Lonesome' gets my vote.
I'm excited to see my home represented on screen in such a filmic and colourfully saturated way. Especially during WorldPride!
See more of Luke Tribe and his work on Instagram or at his website!