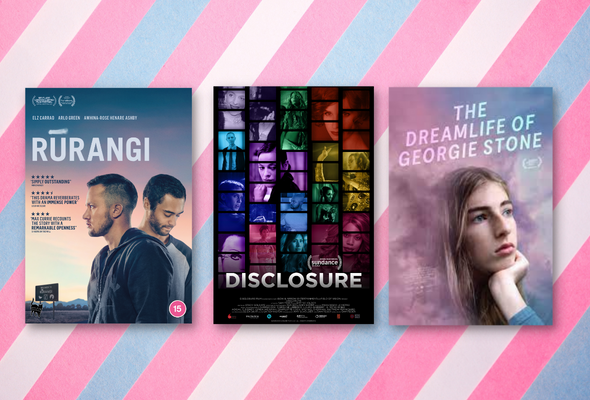 13 Nov

Six film suggestions for Trans Awareness Week

November 13-19 is Trans Awareness Week. Held in the lead up to Trans Day of Remembrance, this week is aimed at helping to raise awareness of trans and gender diverse people, the issues being faced and how to get involved as members of the queer community and allies to create a more equal world for us all.

Find out more about both Trans Awareness Week and Trans Day of Remembrance in Australia here.

You can get involved by taking part in events to support trans and gender diverse people within your communities, such as joining the Queer Screen community on the big screen in Newtown for our special free Trans Awareness Week screening of A Run for More, one woman's journey to become "transvisible" as the first openly elected transgender official in Texas.

We are also excited to showcase the film Uýra: The Rising Forest in the first 8 films in our 30th Mardi Gras Film Festival 2023 lineup. Uýra: The Rising Forest, follows a trans non-binary Indigenous performance artist Uýra on an inspiring journey through the Amazon rainforest. It's a film you won't want to miss on the big screen in MGFF23.

Plus, you can also support on your small screens by watching and celebrating films that feature trans and gender diverse people at the forefront, like these six films and docos that you can watch right now.
Disclosure
Featuring a diverse group of actors and prominent trans people in the film industry, including Laverne Cox, this is an investigation into how Hollywood's fabled stories have deeply influenced how Americans feel about trans people, and how trans people have been taught to feel about themselves. Watch it on Netflix here.
Tangerine
Sin-Dee and Alexandra spend a night on the streets in LA in this unforgettable film, shot entirely on an iPhone. Watch it now on Apple TV.
Rūrangi
Caz (Elz Carrad) returns for the first time since he transitioned to the home he fled a decade earlier – the remote Kiwi town of Rūrangi. Despite the profound changes of the intervening years, Caz attempts to reconnect with family and friends – including his ex-boyfriend Jem (Arlo Green), who is still wounded by Caz's sudden disappearance. This has just left streaming on SBS On Demand, but can be bought on DVD.
The Dreamlife of Georgie Stone
Sharing her journey from child to teen activist, Georgie Stone looks back at her life and historic fight for transgender rights in this documentary. Stream it on Netflix now.
Veneno
Adored for her charisma and her free, explicit and fun way of expressing herself, La Veneno gained popularity thanks to her television appearances in the 90s. However, her life and especially her death remain an enigma. Watch the series now free on ABC iview.
Kumu Hina
A transgender Native Hawaiian teacher inspires a young girl to fulfill her destiny of leading the school's male hula troupe, even as she struggles to find love and a committed relationship in her own life. Watch it now on Plex.