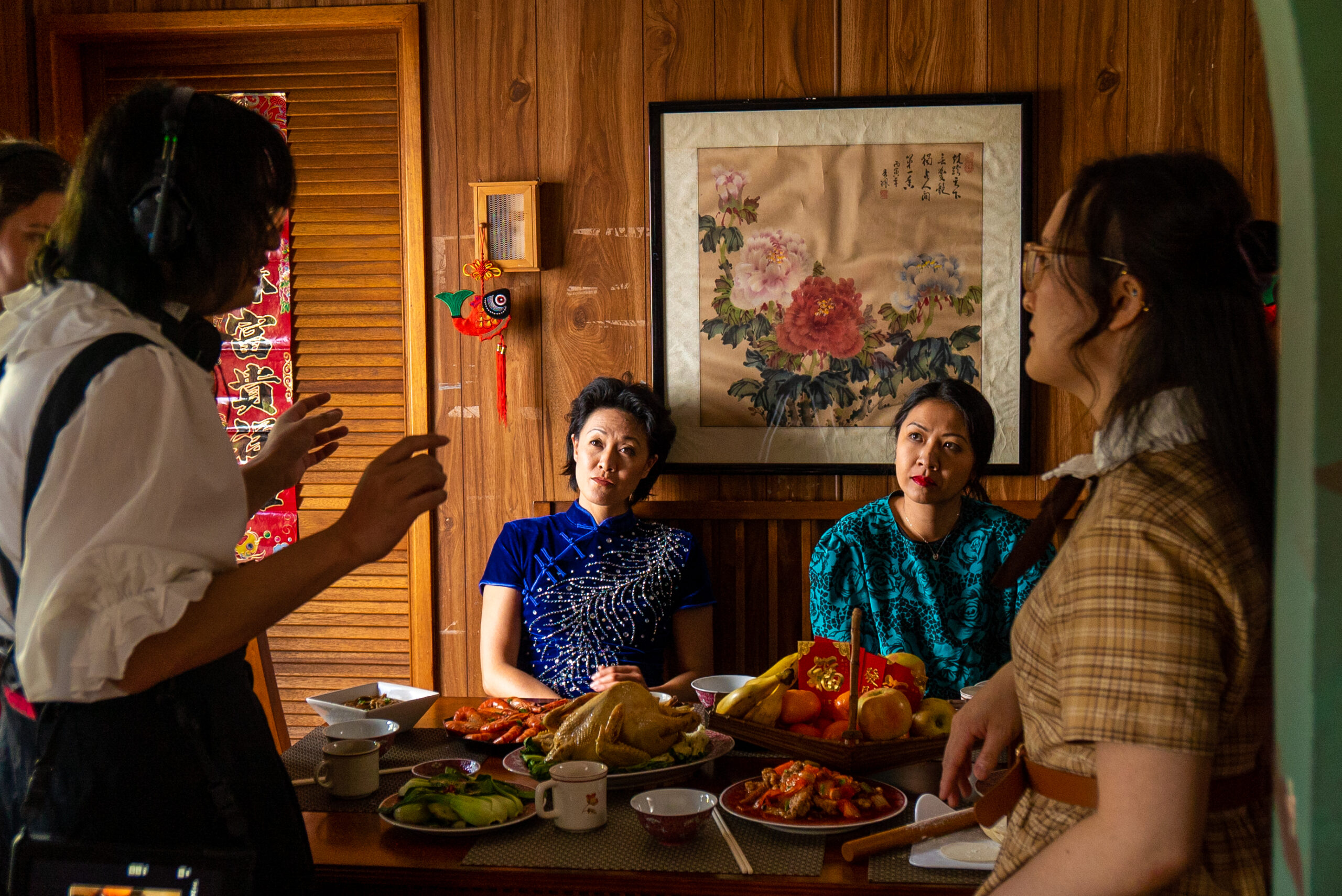 15 Feb

Pitch Off 2022 winner Andy Diep on Lunar New Year and MGFF23

Queer Screen is passionate about creating funding opportunities for up and coming queer filmmakers. That's why we get so excited when our Pitch Off winners or Completion Fund recipients go on to feature films at Mardi Gras Film Festival!

Our Pitch Off winner for 2022 was the wonderful short film Happy New Year Ms Luna. For a refresher…
Happy New Year, Ms Luna
Andy Diep – Writer/Director
Michelle Ny, Vada Gock – Producer
Luna, a young transfeminine woman, attends her family's annual Chinese New Year gathering for the first time since her transition. Already prepared to be compared to her other cousins for her career choices and lack of motivation, she must also explain to her conservative family her decision to transition into being a woman at the request of her mother.
We spoke to writer/director Andy Diep about the film, and how they celebrated Lunar New Year, which happened just before our MGFF23 Program Launch.

All behind-the-scenes photographs: Tyler V. Dias
Hello Andy! Nice to chat to you again. We hope you had a lovely Lunar New Year recently. How did you celebrate?
Thanks for chatting with me again! Lunar New Year has been fun, i've mostly spent it visiting family and catching up, and viewing the wonderful celebrations in the city. I'm getting to that age where i'm receiving less red pockets and i'll probably need to start giving, so that has been a bit of a change from previous year (not that i was expecting any!)
Are there any particular films you watch or recommend watching during Lunar New Year?
Surprisingly, not many films take place during LNY in the main and maybe if the Luna feature film happens, we can start to change that!
I always recommend Yi Yi – the Edward Yang film was the blueprint for Luna, although it isn't strictly LNY related, it does start with a family gathering which always makes me recall my own LNY gatherings.
Ang Lee's Eat Drink, Man Woman is another one that comes up in my mind often during this time of the year, for similar reasons of it recalling my childhood gatherings. It's another film that deals with interpersonal family relationships at a celebration. Speaking of Taiwanese films, i recently saw a fantastic queer film called Moneyboys (which if you're Asian and queer, I'm sure you've encountered it) and I loved it so much!
The old family classics such as Kung Fu Hustle are always a good yearly rewatch (and my family used to revisit it often) and the Ip Man trilogy is another popular family watch.
Our Actress Victoria put me onto a short film that highly recommended readers to see this LNY called Jackfruit about a genderfluid Vietnamese immigrant trying to navigate the Vietnamese diaspora in queer Berlin. It's a fantastic and sensitive film.
If you don't mind some testosterone-driven gangster films, Johnnie To's Election films are very, very good and it could be a good time to check it out if you haven't already!
To be absolutely honest with you though? I watched Merry Christmas, Mr. Lawrence for the n-th time during LNY for Ryuichi Sakamoto's birthday, because I wanted to revisit the huge sexual tension between David Bowie and Sakamoto.

Congrats on winning Pitch Off 2022 last year with Happy New Year, Ms Luna. We're excited to see it at MGFF23. Can you give us a quick refresher on what it's about?
Of course! Happy New Year, Ms. Luna is about a young transfeminine girl who goes to her first Chinese New Year gathering since her transition.
Already prepared to be compared to her other cousins for her career choices and lack of motivation, she must also explain to her conservative family her decision to transition into being a woman at the request of her mother.
How do you hope Happy New Year, Ms Luna will resonate with audiences, particularly queer Asian-Australian viewers?
I made Ms. Luna to explore what my, and potentially other queer Asian-Australian friends' anxieties and challenges were in navigating how to present ourselves to our family.
I was also hoping to fill in a gap that was missing in the canon of queer cinema that explored the differences of being queer within an Asian family and having to deal with pre-existing expectations of filial piety and asking the question of whether maybe being able to meet our family's expectation and being queer are not mutually exclusive, and i feel like making films that show how a family can positively react to a queer person coming out could help both queer find the courage to have these conversations with their family and non-queer Asian relatives to open their hearts to their queer friends and family.
I also hope to open up the forum for more trans and gender diverse Asians to come out and talk about their experiences with others, as i know that a lot of us feel quite alone within the queer/gender diverse community sometimes because our challenges can be quite different from non-Asian gender-diverse people
Personally, Happy New Year, Ms. Luna was also a bit of wish fulfilment – it's my imagining of how I would hope my coming out (of being non-binary) would go with my family. I know reality will never go quite as well as things do in films, but I hope others will gain the same sense of fulfilment by watching the film.

You previously told us you've be keen to expand Luna's cinematic universe, is that still on the cards?
Yes! If given the chance, i can see how all the beats of a Luna feature film would look like! There is so much left to explore in Luna's story, such as how her life with the family looked like pre-transition and how it's going to look like, 2-3 years onwards (and to me, my life before presenting queer to family might have been the most important part of my own story).
These are all important parts of Luna's story that i am keen to explore. But regardless, I want to keep telling the story of Luna and Luna's family in any form. We had such a fantastic time making Luna on-set that i feel as though the actors are ready to come back and re-inhabit their roles and tell any variation of stories about Luna and the aunties, uncles and cousins, and it honestly felt like the Luna set was coming home to a real family every day.
You can not imagine how special it was to see Sydney's Asian acting community come together at this large a scale for Luna (as we had to wrangle 15+ speaking roles for the film) and to see the actors perform and play within a wholly Asian-Australian setting was amazing, and i have Genuine Fake to thank for making that a reality.
It was something truly special, and gave our first-time actress, Victoria, lots to react to and to work with. It would really be a shame to leave the world of Luna at just a short film. I'm thankful for our many actors and crew members for making Luna's world one that I found it very hard to leave behind after wrap. I hope our audiences will feel the same way!
Thank you so much for your time and passion, Andy! And of course, congratulations again on winning this year's Queer Screen Pitch Off 2022. We can't wait to see your film at Trans and Gender Diverse Shorts at MGFF23!
Happy New Year, Ms Luna poster designed by Eva Li.