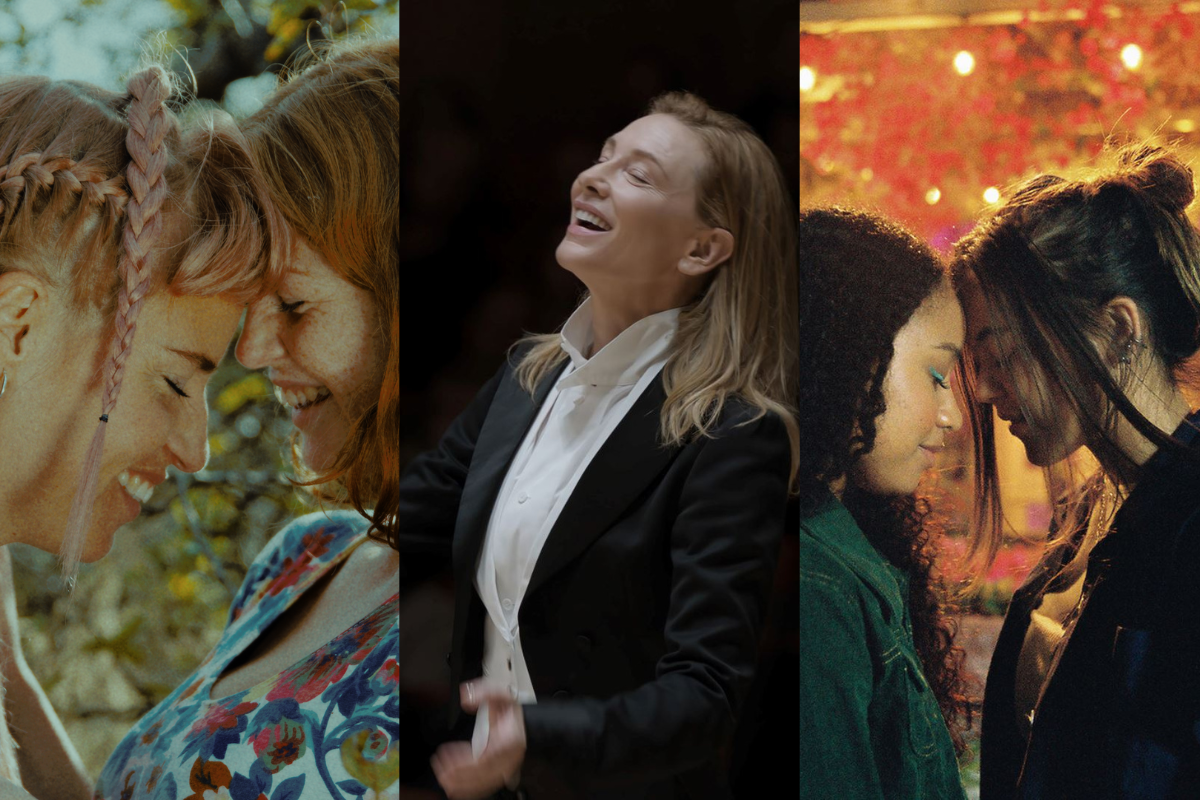 14 Feb

Top date ideas for queer women at MGFF23 🌹

You've exhausted the pub, you're tired of picnics (lockdown flashbacks) and your cooking chops aren't quite first date ready. If you're a queer woman looking for a perfect sapphic date with a new babe, look no further.

Maybe you've met them at a bar, online on a lesbian dating app or down at your local queer netball club. You've got a hot date with a cutie – maybe they're bi, queer, lesbian, trans, gender diverse or any colour of the rainbow, now all you need is the perfect date idea. With Mardi Gras Film Festival 2023 coming up from 15 February – 2 March, we've got 10 date ideas for queer women for you and your sweetie! If you're looking for a plus 1, download the HER app and get planning (or more realistically, comparing astrological charts)!

Here are 10 lesbian date ideas for Sydney and surrounds, or at home!

See the full Mardi Gras Film Festival 2023 program right here.
In Her Words: 20th Century Lesbian Fiction 
Sat, Feb 18, 2:00pm
Event Cinemas, George St, Sydney
+ On Demand
For the bookworm queers, this documentary shining a light on lesbian fiction is screening in Australia for the very first time. Check it out in cinemas, or you can stream it on demand no matter where you are in the country!
Revisit (and discover!) your 20th century lesbian literary favourites and celebrate the trailer-blazing authors that created them. Stay for a panel discussion offering an Australian perspective, or continue your bookish-themed date to read poetry to each other under a tree in Sydney's Botanical Gardens. Cute!
Book tix
Women Loving Women Shorts
Sat, Feb 18, 5:00pm
Event Cinemas, George St, Sydney

Take your sweetheart out to a shorts package all about women who love women, it might just be the perfect chance to hold their hand across the seat divider.
Romance, flirting and sexual tension are in the air, in this short film package that's all about women who love women, regardless of label.
Book tix
TÁR OpenAir Screening
Sun, Feb 19, 8:30pm
Westpac OpenAir, Sydney
Is it even a queer date if Cate Blanchett wearing a pantsuit isn't present? Catch the Westpac OpenAir screening of TÁR against the backdrop of the stunning Sydney Harbour for an unforgettable date. Plus, if you get in quick, you can nab a Chandon Garden Dining package to really impress your date.
Cate Blanchett delivers a ferocious, career-best performance in this acclaimed, award-winning portrait of an intimidating lesbian maestro.
Book tix
Inqueersition: Queer Screen Trivia Night
Tue, Feb 21, 7:00pm
The Bearded Tit, Redfern, Sydney
Impress your date with your queer pop culture chops at the iconic Inqueersition: The Queer Screen edition! Plus it's at The Bearded Tit, so you know you'll be in good company.
Whether you're the favourite to win or barely know the half of it, get your tongues untied and ready to wile away the hours answering questions about all things Queer Screen at our trivia night.
Book tix
The Five Devils
Wed, Feb 22, 6:30pm
Hayden Orpheum Cremorne, Sydney
and
Fri, Feb 24, 8:30pm
Event Cinemas, George St, Sydney
and
Wed, Mar 1, 1:30pm
Event Cinemas, George St, Sydney
Take your special person to a mysterious drama where you can both point at the screen and say, "Hey, isn't she from Blue is the Warmest Colour?"
Adèle Exarchopoulos (Blue is the Warmest Colour) is mesmerising as the mother of a lonely girl whose special gift brings up a past family love triangle, in this genre-bending magical realist film.
Book tix
Breaking the Ice
Thu, Feb 23, 8:30pm
Event Cinemas, George St, Sydney
and
Sun, Feb 26, 5:00pm
Dendy Cinemas Newtown, Sydney
Catch a gripping romance film on your date, and analyse/obsess over it with a drink after. 
Breaking the Ice is an Austrian sports drama that centres on Mira, a young woman captaining her ice hockey team whilst also grappling with issues around loss, guilt and identity.
Book tix
Saving Face
Sun, Feb 26, 5:00pm
UTS Alumni Green, Sydney

A feel-good lesbian romance screening outdoors as part of our fun community day Queer Screen on the Green? Yes PLEASE. Tickets are FREE or $10, so this is a perfect affordable outdoorsy date!
A fixture of "best in lesbian film" lists since 2004, this light-hearted romance between two Chinese-American women was Alice Wu's (The Half of It) directorial debut.
Book tix
A Place of Our Own
Mon, Feb 27, 6:20pm
Ritz Cinemas, Randwick, Sydney
+ On Demand

Catch this captivating film about trans women Laila and Roshni either in cinemas, or set up a cute home cinema and watch it whenever you want – on demand! Celebrating queer community, this eye-opening film one for the cinephiles.
Two trans friends work together to overcome the prejudice that overshadows their daily lives, in this empowering and hopeful Indian drama.
Book tix
Sleep with Me
Tue, Feb 28, 6:20pm
Ritz Cinemas, Randwick, Sydney
Catch the Sydney premiere of this romantic feature film that won Best Episodic at LA Outfest 2022. It's warm and fuzzy, screening alongside
Veils
, a short Japanese film about two women getting married (hint hint).
In this Filipino rom-com, Harry – a wheelchair user who hosts a beloved late night radio show – meets Luna, an avid listener who struggles with a less visible disability.
Book tix
Closing Night Gala: The Venus Effect (+ After party!)
Thu Mar 2 7:00 pm
Event Cinemas, George St, Sydney

Take your date to the Closing Night of MGFF23 for a sapphic night of film and dancing! The screening will be followed by a Closing Night after party in Gold Class, so you enjoy some drinks, canapés and show off your great dance moves to your hot date. Plus, you never know what queer celebs you'll see on the pink carpet!
The Venus Effect is a feel good, award-winning Danish rom-com follows Liv, a young woman with a sweet but unexciting boyfriend, whose world is rocked by the arrival of a pink-haired, vulva dress-wearing, Sapphic goddess.
Book tix